Spirilised Pineapple marinaded in sweet paprika, garlic, vinegar, shallots, with clove-like basil and black pepper; Pineapple Bruschetta.
Dive into something moist and mouth-watering. And, intoxicate your tastebuds.
This dish will overturn your belief that vegan food can't be simple to rustle up.
Make this:
When you've that just fallen out of bed look. Your hair is a mess. It's a duvet day too. And, nothing short of lush Pineapple slathered on toast as you browse your favourite vegan food website will make your day
When you've got homemade brunch planned with your bestie. Our comes the Mimosa! And, as you're pouring another tipple, you need something dynamic to serve. Pineapple Bruschetta is your answer
When you've got to take the kiddies for a day of activities. You need to kick start your day. A wholesome brekkie is the only solution
Pineapple Bruschetta was inspired when shopping for another recipe. I had been craving some homemade Tepache – see here for that recipe too. I was also feeling slightly peckish having worked up a sweat from all the cycling. Returning home as I deskinned the pineapple, I imagined resting on my sofa. And, tossing together some basil laced with sweet paprika just resonated and was idyllic in that moment.
I was also dying to use my spiralizer. Yet, I wanted to have the pineapple in a raw form. I wanted the taste of some rustic bread I had purchased too. So, I came up with this bruschetta. It worked out to be a great snack too.
This savoury sweet dish is vegan.
What equipment to use
For this recipe, I suggest:
Spiriliser
What to do next
Tag me on @ethiveganquantum on Instagram to show me what you've made and let me know you're happy for me to share.
My recipes are featured in vegan speciality publications: Nourished, Vegan Life, Plant Based and Vegan, Food and Living.
Order my first self-published book, "Essence: The Beginner's Guide to Veganism" part of the three-part Circle of Food series. My second book "Presence: The Ascending Vegan" – which explores how to maintain a vegan practice is out in 2027 – I have compiled all the chapters including recipes.
Going strong since 2013.
Love.
Edward x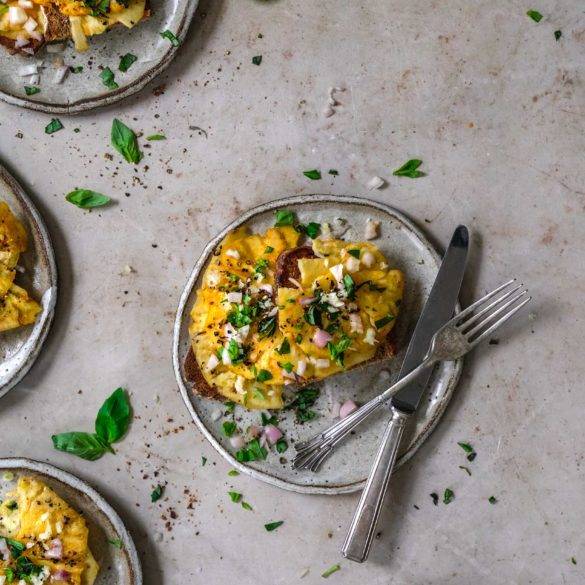 Ingredients
1 medium pineapple

1tbs olive oil

1tbs white wine vinegar

1tsp sweet paprika powder

2 shallots, chopped

1 clove of garlic, minced

Pinch of salt

Crushed black pepper

Few Basil leaves

Some ciabatta or rustic bread
Instructions
Peel the skin off the pineapple. (Note – I have a recipe for Tepache, a probiotic made from pineapple rind – which please check out).
Place the pineapple in a Spiralizer. Use the ribbon cut blade. Spiral the pineapple.
Place the spiralled pineapple on a tray in a dehydrator for about an hour.
Pour oil and vinegar into a mixing bowl. Toss in the garlic, paprika, shallots and salt.
Chop the shallots, and mix in with the, oil, vinegar, garlic, paprika and salt. Combine well with a spatula.
Toss in pineapple and coat the pineapple in the marinade. Marinade for about 30 minutes.
Toast rustic bread or ciabatta.
Lay the pineapple onto the bread.
Garnish with fresh basil leaves and crushed black pepper.