Being new to adopting more raw food in my diet, I decided to experiment with Portobello mushrooms. I dehydrated these for about 4 hours under a low temperature in the oven – enough, put my hand in quite comfortably in the oven without the use of any oven gloves. Actually, what resulted was a mouthwatering fleshy mushroom, which complemented the topping I made to go with it.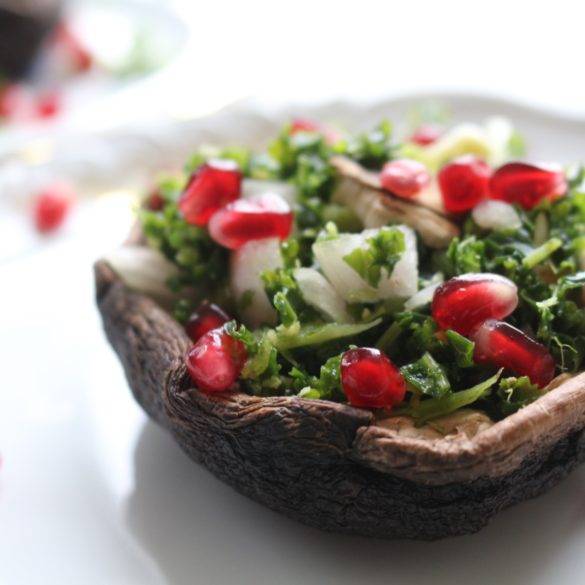 Ingredients
1tbs coconut oil
4 Portobello mushrooms
100g kale
2 shallots, finely chopped
½ pomegranate, seeds
½ inch ginger root, grated
1tbs mirin rice wine
Instructions
Preheat oven to 50 degrees Celsius.
Place the Portobello mushrooms into an ovenproof dish with the coconut oil.
Set aside 4 hours to deydrate the mushrooms, turning sides every three quarter hours or so.
Finely chop the kale in a food processor. Set aside.
Place the shallots, ginger root, mirin rice wine in a bowl. Mix well. Add the kale
When ready to serve. Stuff the kale on the upside of the mushroom.
Garnish with the pomegranate seeds.
Serve at room temperature.