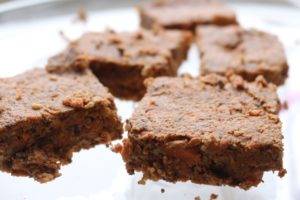 Raw Chocolate Walnut and Sweet Potato Bites
I was looking to make a sweet dish the other day but wanted to refrain from using sugar, even if it was unrefined and organic. For me, dates serve as an easy substitute – it is easily available. Here is the result…. I freeze the sweet potatoes, as it makes them more pliable to use in cooking.
Recipe type:
Dessert, Snacks
Cuisine:
Vegan, Vegetarian, Raw, Paleo, Paleovegan
Ingredients
640g sweet potatoes
125g cocoa butter (or coconut oil)
150g dates
75g cocoa nibs
150g walnuts, finely chopped
Instructions
Peel the sweet pototoes. Place overnight in the freezer.
The following day, defrost the potatoes.
Once defrosted, the potatoes can be finely chopped in a food processor.
Finely ground the cocoa nibs.
Place the dates into a chopped and chop finely. Do the same thing with the walnuts.
Place all the ingredients into a large bowl and mix well.
Line a baking tray with coconut oil. Line with a piece of baking parchment. Pat the mixture into the bottom and sides of the tray.
Leave the bites to set in the fridge for a couple of hours.
Serve at room temperature.
Notes
Nutritional Analysis
Good points
• No cholesterol
• Very low in sodium
Nutrition Information
Serving size:
71g
Calories:
237
Fat:
16.8g
Saturated fat:
1.5g
Carbohydrates:
20.5g
Sugar:
6.2g
Sodium:
4mh
Fiber:
4.5g
Protein:
3.6g
Cholesterol:
0