Raw Rhubarb Pie came about because I had rhubarb in the fridge. I had purchased it on a whim. This has been through a few iterations to get the desired result and texture.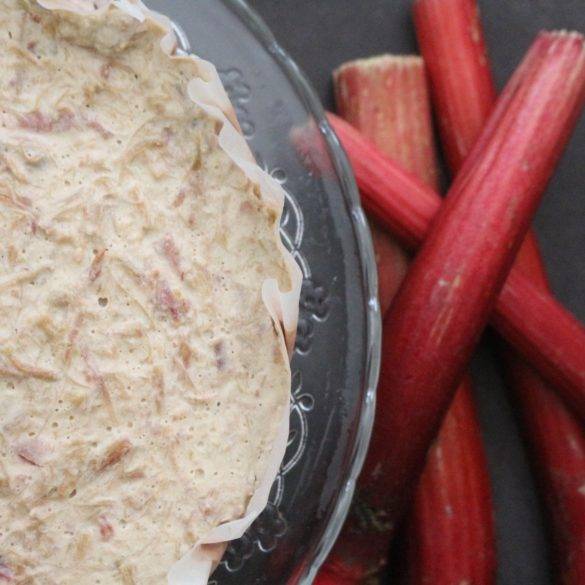 Ingredients
100g pumpkin seeds
150g dates, destoned
50g coconut, shredded
125g cocoa butter
200g rhubarb
50g unrefined raw cane sugar
250ml oat cream
Instructions
Line the base of 9-inch round loose-bottomed cake tin with baking paper.
Soak the pumpkin seeds in water for about 20 minutes. Set to one side.
Melt the cocoa butter in a baine marie or in a glass bowl perched over warm water over a stove. Make sure that the butter stays in the bowl. Keep stirring until melted.
Chop the rhubarb finely before placing into a food processor. Blend in the sugar and oat cream. Add the melted cocoa butter and transfer to a bowl. Set to one side.
Drain the pumpkin seeds and add to the food processor with the coconut and dates. Blend until the mixture is bound.
With the flat side of the spatula press the pumpkin mixture into the round cake tin and smooth into a flat base. Cover with baking paper or clingfilm and place in the refrigerator for about an hour to allow to set.
Use the flat side of the spatula to smooth over the rhubarb mixture to the pumpkin mixture base.
Return to the fridge for about a further hour and serve.
Notes
By Edward Daniel, Vegan Chef and Former Chair of The Vegan Society. Contributor to Vegan Life Magazine, Plant Based Magazine, Vegan Food and Living Magazine and OK! Magazine. Speaker and cooking demonstrator at Vegan Life Life Festival London, Mind Body and Spirit Festival London, Veganes Sommerfest Berlin, and Bali Vegan Festival. Author of "Essence: The Beginner's Guide to Veganism".