Rich velvety Sweet Potato Carob Brownies infused with lemon juice and dark chocolatey carob topped with lush sweet potato.
Get your tongue wrapped round something moist and gooey. And, shiver.
This dish will burst your belief that vegan food can't be super yummy.
Make this:
When the lads are coming for an afternoon of boardgames and a little pick me up for the break is much deserved
When you've got a date with your local runners and a quick bite as you've made your way over the finish line
When it's tea party with the other yummy mummies and a dish that'll have you comparing notes on your kiddies' progress
Sweet Potato Carob Brownies was inspired when first discovering carob and experimenting with it; realising it was a caffeine-free version of chocolate – just as rich and just as velvety.
Carob is native to the Middle East and Mediterranean. I have a friend growing these trees in Cyprus. Such trees grow for about 100 years, fruiting after about six years.  They are easy to grow in sandy free draining soil in warm climates.
Sweet Potato Carob Brownies are vegan and gluten-free.
What to do next
Tag me on @ethiveganquantum on Instagram to show me what you've made and let me know you're happy for me to share.
My recipes are featured in vegan speciality publications: Nourished, Vegan Life, Plant Based and Vegan, Food and Living.
Order my first self-published book, "Essence: The Beginner's Guide to Veganism" part of the three-part Circle of Food series. My second book "Presence: The Ascending Vegan" – which explores how to maintain a vegan practice is out in 2027 – I have compiled all the chapters including recipes.
Going strong since 2013.
Love.
Edward x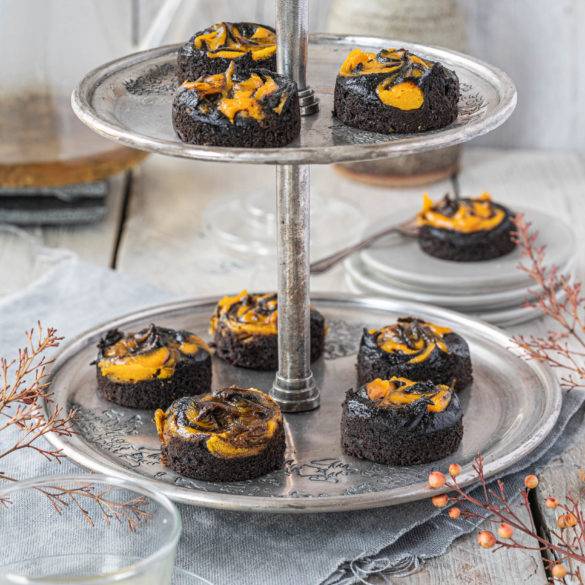 Ingredients
400g sweet potatoes

50ml olive oil

100g almonds, blanched ground

75g millet

50g carob powder

100g raw unrefined cane sugar

½ lemon juice

Pinch of salt
Instructions
Pre-heat oven to 180 degrees Celsius or if you have a convention fan, to 160 degrees Celsius.
Place the sweet potato a baking tray and bake for 30 minutes. Remove and allow to cool. Discard skin.
Line a cake tin with olive oil or a 12 mini cake tray.
In a food processor, blend the sweet potato flesh with oil and lemon juice. Place in a large mixing bowl.
In a high-food processor grind the almonds, millet, sugar and salt. Transfer to the mixing bowl and swirl in with a spatula.
Tip out about 4 tablespoons dollops of orange dough into a separate bowl.
Add in the carob powder to the main mixing bowl. Mix well and pour into the baking tray.
Swirl in the orange dough in to the baking tray.
Bake in the oven for 25 minutes.
Remove from the oven and allow to chill.