Sweet Potato Carob Brownies I made a few years back for a work colleague of mine who mentioned that having given these brownies to her child she wasnt able to tell that they hadn't been made with chocolate – she wasn't the wiser. Carob is a great alternative to chocolate and these gluten-free Sweet Potato Carob Brownies are lush.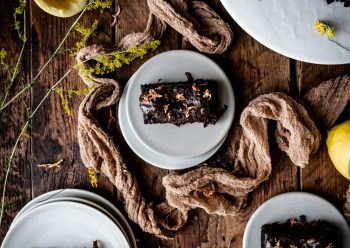 Ingredients
100g raisins
3tbs linseeds
50g oats
1kg sweet potatoes
100g olive oil
200ml filtered water
100g dates
1/2 lemon, juice
50g carob powder
Instructions
Soak raisins in filtered water for about 20 minutes
Pre-heat the oven to gas mark 180 degrees Celsius or if you have a fan oven 160 degrees Celsius.
Grind the oats and linseeds. Set to one side.
Discard the skin and grate the sweet potatoes and place in a large mixing bowl.
In a blender, blend the dates with water, oil and lemon juice until well combined. Add to the sweet potatoes.
Add in the linseeds, oats and carob powder. Drain and fold in the raisins.
Line a baking tray with oil and baking paper. Place the sweet potatoes in an ovenproof dish. Flatten with the back of a spatula.
Bake in the oven for about 30 minutes until you are able to slide a knife through the brownies with ease. Set to one side on a rack.
Once cooled, chill in the fridge.
Serve cold with cream, ice cream or top with icing of your choice.