Dish a little savoury condiment on your pecker. And, relish in delight.
Apple, onion and sultanas stewed in malt vinegar and sugar sealed with mint to make Apple Onion and Mint Chutney.
This condiment will trample over any beliefs that vegan food can't be super simple to make.
Make this:
When you've got a good curry on the go and a chutney that'll add a touch of sparkle to polish off your dish
When you've got apples growing in abundance in your orchard and savouring a few over the winter to complement your repertoire of dishes is exactly what you need
When you've a soiree on the go and need a complimentary hors d'oeuvre that'll have your guests in fits of delights
Apple Onion and Mint Chutney was inspired by mum's cooking.  She'd handpick apples at the local farmer's market, polish them and make a vat full of gorgeous chutneys to complement mouth burning curries.
Chutney is a classical Indian condiment made with chopped fruit cooked in vinegar, sugar and spices. "Chutney" derives from the Indian "chatni" meaning the lip-smacking uproar when eating something super yummy.
Apple Onion and Mint Chutney is a condiment, vegan and paleo.
Love.
Edward x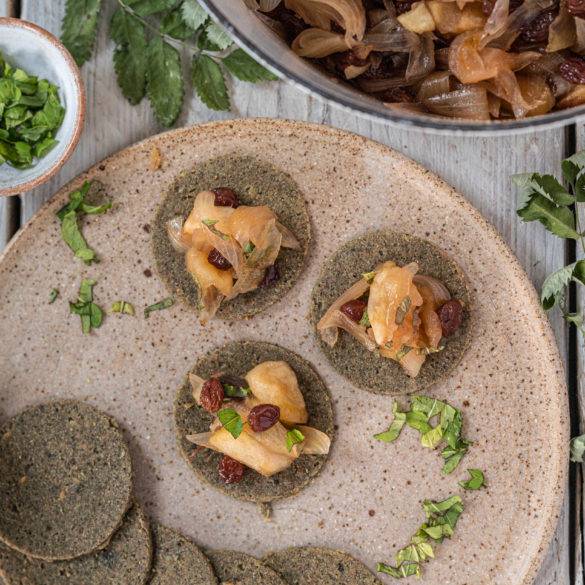 Ingredients
750g onions

750g cooking apples

200g sultanas

350g raw unrefined sugar

140ml malt vinegar

Pinch of salt

Few sprigs of mint
Instructions
Boil the onions in filtered water for 5 minutes. Drain and place onions in a large saucepan.
Peel, core and roughly chop the apples. Add to the pan with the sultanas, sugar and malt vinegar.
Bring to the boil. Reduce heat, cover and place on a low heat for about an hour and a half.
Sterilise jars and finely chop some mint.
Once the chutney is done. Switch off the heat. Stir in the mint and pot into and seal into the sterilised jars.
Serve the chutney with curries, vegetables or whatever takes your fancy.