Almond Kheer is just a gorgeous dish to serve. I love this dish because of its simplicity in compiling it but just in its taste.  It is a great way to end a meal.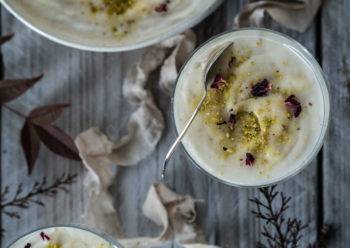 Ingredients
75g raw unrefined cane sugar
200g almonds
500ml filtered water
3 cardamon pods
1tsp rose water
3 or 4 saffron threads.
Garnishing
Pistachio nuts, chopped
Rose petals
Instructions
Place the saffron strands in boiling water in a saucepan. As the colour changes switch off the heat. Leave to one side for about 10 minutes.
Blitz the almonds, sugar and cardamon seeds with the water into a high-speed processor until fine and creamy.
Add in rose water. Transfer into a serving dish.
Chill in the refrigerator for a couple of hours.
Garnish with pistachios and rose petals just before serving.
Notes
By Edward Daniel, Vegan Chef and Former Chair of The Vegan Society. Contributor to Vegan Life Magazine, Plant Based Magazine, Vegan Food and Living Magazine and OK! Magazine. Speaker and cooking demonstrator at Vegan Life Life Festival London, Mind Body and Spirit Festival London, Veganes Sommerfest Berlin, and Bali Vegan Festival. Author of "Essence: The Beginner's Guide to Veganism".