Almond Kheer is just a gorgeous dish to serve. I love this dish because of its simplicity in compiling it but just in its taste.  It is a great way to end a meal.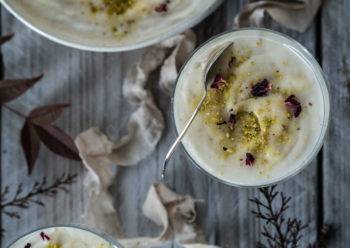 Ingredients
75g raw unrefined cane sugar
200g almonds
500ml filtered water
3 cardamon pods
1tsp rose water
3 or 4 saffron threads.
Garnishing
Pistachio nuts, chopped
Rose petals
Instructions
Place the saffron strands in boiling water in a saucepan. As the colour changes switch off the heat. Leave to one side for about 10 minutes.
Blitz the almonds, sugar and cardamon seeds with the water into a high-speed processor until fine and creamy.
Add in rose water. Transfer into a serving dish.
Chill in the refrigerator for a couple of hours.
Garnish with pistachios and rose petals just before serving.