Get your tongue around something silky and creamy…And, relish.
Creamy earthy Artichoke bathed in slivers of potatoes with peppery-anise-like basil wafting encrusted in a pillowy tofu Frittata.
This dish will topple any belief that vegan can't be super hearty.
Makes this:
When you're got a new belle/beau and in your honey moon phase, they've slept over and you want to impress with that "come and get me for more" look
When you've got the gang over for a sleepover and you've all a bit groggy the next morning and it's coming up for brunch. Soak up that grog
When you've had a knees up with the lads, come home and famished and need something to soak up those shooters you took
Artichoke Frittata was inspired when living in Lisbon and each morning going to the local cafeteria and eating freshly rustic-styled oven-baked frittata with a café latte on the side.
A hearty dish that keeps in the fridge for days.  This vegan version of frittata uses tofu instead of egg.
Artichoke Frittata is vegan.
Love.
Edward x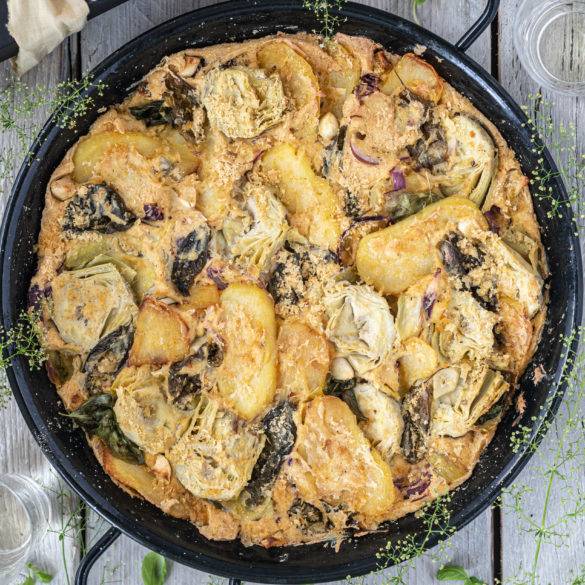 Ingredients
300g potatoes

2tbs extra virgin olive oil

400g organic tofu

25g oats

25g flaxseeds

150ml filtered water

½ lemon, juice and zest

1tsp agar agar

½ tsp salt

1 onion

2 cloves of garlic

10g nutritional yeast

Few sprigs of basil

250g artichoke hearts, sliced
Instructions
Peel and thinly slice the potatoes and place in boiling water for about 5 minutes. Drain.
Sauté the potatoes in the olive oil until the potatoes are slightly brown on either side.
Pre-heat oven to gas mark 180 degrees Celsius, or if convection oven to 160 degrees Celsius.
In a high-speed blender blitz the oats and flax seeds until fine.  Add in the tofu, water, lemon juice, agar agar, salt and 5g of the nutritional yeast.  Whizz to a smooth consistency.
Transfer the frittata mixture to a large mixing bowl.  Add in the artichokes, potatoes, onion, garlic and basil leaves.
Using a pastry brush, generously line an oven proof dish or a paella dish with olive oil.
Using a spatula lay the frittata mixture into the dish.
Cover with aluminium foil and bake in the oven for about 35 minutes. Remove the foil and sprinkle on the remaining nutritional yeast.
Remove from the heat. Serve warm or place in the fridge, and eat when cold.