Baked Brussel Sprout Puy Lentil Stew with Sour Cherries and Pomegranates is one of those wholesome winter dishes full of vibrancy, and layered with taste and aromas. I made this dish recently for a friend over for dinner.  I wanted to have rich complex flavours.
What to do next
Tag me on @ethiveganquantum on Instagram to show me what you've made and let me know you're happy for me to share.
My recipes are featured in vegan speciality publications: Nourished, Vegan Life, Plant Based and Vegan, Food and Living.
Order my first self-published book, "Essence: The Beginner's Guide to Veganism" part of the three-part Circle of Food series. My second book "Presence: The Ascending Vegan" – which explores how to maintain a vegan practice is out in 2027 – I have compiled all the chapters including recipes.
Going strong since 2013.
Love.
Edward x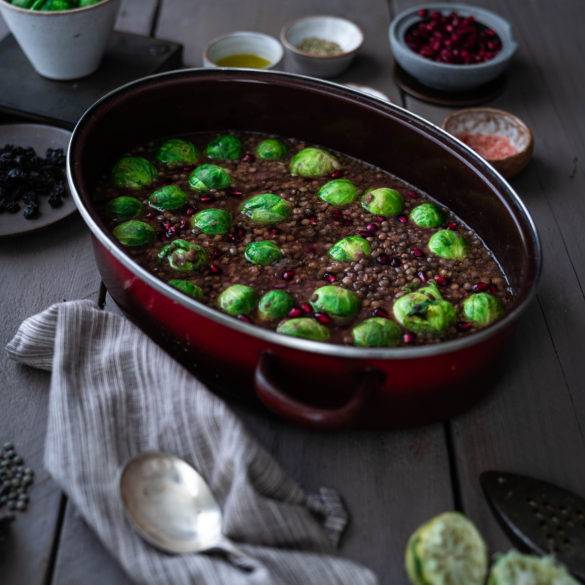 Ingredients
100g puy lentils
30g sour cherries
1tbs maple syrup
1 onion
3tbs olive oil
200g Brussel sprouts
75ml red wine
75ml water
1tbs tamari
3 cloves of garlic, chopped
1tsp lavender
1tsp fennel seeds
½ lime, juice and zest
Salt and pepper to taste
30g pomegranates
Instructions
Pressure cook the puy lentils for 30minutes. Set to one aside.
Soak the sour cherries in maple syrup. Set to one side.
Preheat the oven to 180 degrees Celsius.
Sauté the onions in oil until the onions turn translucent.
In a mixing bowl mix together the wine, water, tamari, garlic, lavender, fennel, lime. Season with salt and pepper to taste.  Place into an oven proof dish with the onions and oil.
Stir in the sour cherries and maple syrup. Mix in the puy lentils.
Add the Brussel sprouts and the pomegranates on top.
Bake in the oven for 30 minutes until the Brussel sprouts turn a crispy brown colour.
Serve with potatoes or rice.