Chestnut Brussels Sprout Frittata baked with citrus lemon, garlic, onion, turmeric, bitter parsley and earthy rosemary.
Tempt fate. And, quench that yearning sensation.
This dish will topple your belief that vegan food can't be super nourishing.
Make this:
When your heart is palpitating for some yummy frittata as you lounge out of bed having overslept
When you've just come back from the gym and are peckish for a dish that'll touch all your synapses
When you fancy a savoury start to your day as you head out for a tough session of rock climbing
Chestnut Brussels Sprout Frittata was inspired when I'd friends staying over for the weekend and needed a lush brekkie dish before we embarked on visiting the free museum galleries around London.
This Frittata is vegan.
What equipment to use
For this recipe, I suggest:
Oven
High-speed blender
 What to do next
Tag me on @ethiveganquantum on Instagram to show me what you've made and let me know you're happy for me to share.
My recipes are featured in vegan speciality publications: Nourished, Vegan Life, Plant Based and Vegan, Food and Living.
Order my first self-published book, "Essence: The Beginner's Guide to Veganism" part of the three-part Circle of Food series. My second book "Presence: The Ascending Vegan" – which explores how to maintain a vegan practice is out in 2027 – I have compiled all the chapters including recipes.
Going strong since 2013.
Love.
Edward x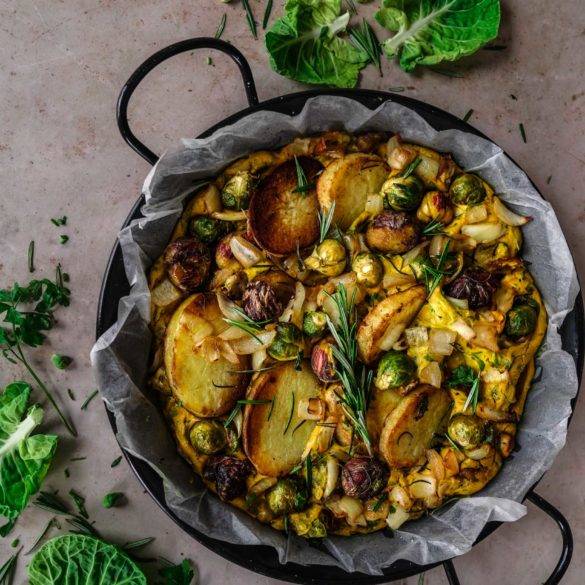 Ingredients
300g potatoes (sliced to 1cm in thickness)

2tbs olive oil

400g organic tofu

25g oat

100ml filtered water

2 cloves of garlic

1 onion

½ lemon, juice and zest

1tsp agar agar

1tsp turmeric powder

½ tsp salt

Few sprigs of parsley

Few sprigs of rosemary

100g Brussels Sprout

100g chestnuts, chopped
Instructions
Pre-heat oven to gas mark 180 degrees Celsius, or if a convection oven to 160 degrees Celsius.
In a blender combine the tofu, oats, turmeric, water, lemon, agar agar and salt. Whizz to a smooth consistency. Transfer to a large mixing bowl with the garlic, and chopped rosemary and parsley.
Sauté the potatoes in the olive oil until the potatoes are golden brown on each side. Set to one side.
Use the leftover oil to sauté the onions until translucent. Transfer to the mixing bowl with the minced garlic. Mix well.
Line a baking tray with parchment paper. Using a pastry brush, line the sides with olive oil.
Toss the potatoes, Brussel Sprouts and chopped chestnuts onto the base of the baking tray. Pour over the frittata mixture over.
Cover with aluminium foil and bake in the oven for about 30 minutes until the Frittata becomes golden brown.
Remove from the heat. Allow to cool. Serve either lukewarm or place in the fridge, and eat when cold.