Wrap your tonsils round something lush and bite
Baked Jerusalem Artichokes in almond cream, citrus lemon, shallot, garlic, lemony tarragon and sour barberries.
This dish will burst your belief that vegan food can't taste this sensational.
Make this:
When the taste sensations overtake you and you need a hearty meal to quench your desires
When the mood overtakes as you plunge for the Jerusalem Artichokes at your local farmer's market
When you've got an uber dinner party to organise and need a glamourous super lush to wow your guests
Baked Jerusalem Artichokes was inspired when I'd happened upon some Jerusalem Artichokes in torrential rain at the local farmer's market. I nabbed some tarragon and tossed in some lemon, experimenting with almond cream.
Baked Jerusalem Artichokes is vegan and paleo.
Love.
Edward x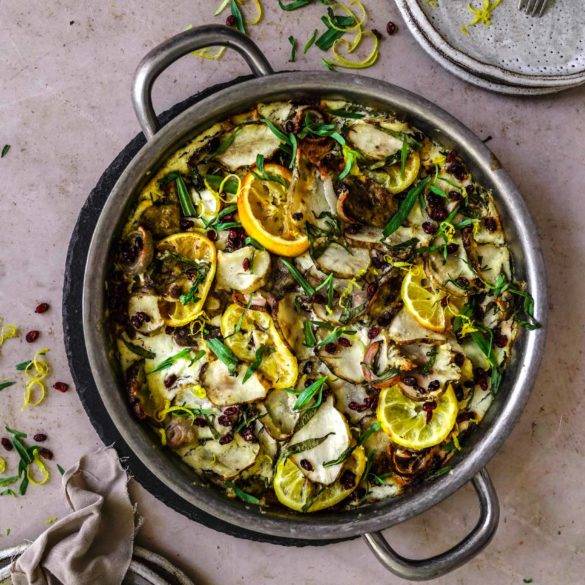 Ingredients
500g Jerusalem artichokes

100g almonds, blanched

600ml filtered water

1 shallot

2 cloves of garlic

10g barberries

1 lemon

Few sprigs of tarragon

Season to taste
Instructions
If you have skinned almonds, place in boiling water, leave for a few minutes and peel off the skin. You may need to submerge in another batch of boiling water. Set blanched almonds to one side.
Preheat the oven to 180 degrees Celsius or if a convection oven to 160 degrees Celsius.
Thinly slice the Jerusalem artichokes, no need to peel the skin off. Place in a large mixing bowl. Cover with oil.
Whizz the almonds in water in a high-speed blender until it creams. Pour over the Jerusalem artichokes. Mix in the chopped shallot, garlic, tarragon and barberries and transfer to a baking dish. Insert in sliced lemon.
Season to taste.
Bake in the oven for 50 minutes.
Serve warm.