Crispy moist gooey Sour Cherry Cookies with blackstrap molasses, muscovado sugar, in an almond and millet pastry bed.
Lambast your delicate complexion. And, indulge in heavenly raptures of ecstasy.
This dish will eradicate any belief that vegan food can't be super yummy.
Make this:
When you've got raucous kids that would enjoy making sensational cookies they'd get to hoover up once done
When you've got Uncle Jack drop in for a cuppa and need an understated snack that'll have him smiling cheek to cheek
When you've just spent the whole day running out doing chores and fancy a lush dessert that'll have listen to ambient music as you take another bite
Sour Cherry Cookies were inspired when I had been on a recipe development and testing activity – I had gone through numerous iterations and was unhappy with the impending result – cookies that were moist and yet crispy too. This recipe is the end result of that hard effort.
These cookies are vegan and gluten-free.
What equipment to use
For this recipe, I suggest:
High speed blender
Oven
What to do next
Tag me on @ethiveganquantum on Instagram to show me what you've made and let me know you're happy for me to share.
My recipes are featured in vegan speciality publications: Nourished, Vegan Life, Plant Based and Vegan, Food and Living.
Order my first self-published book, "Essence: The Beginner's Guide to Veganism" part of the three-part Circle of Food series. My second book "Presence: The Ascending Vegan" – which explores how to maintain a vegan practice is out in 2027 – I have compiled all the chapters including recipes.
Going strong since 2013.
Love.
Edward x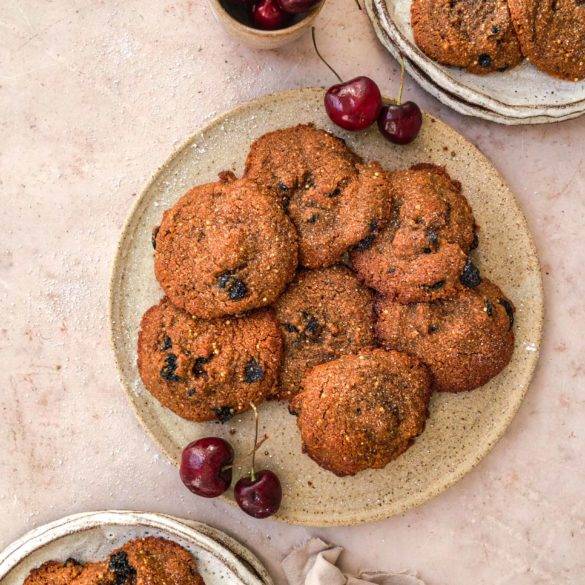 Ingredients
50g sour cherries, dried

50g almonds, blanched

80g millet

30g flaxseeds

30g oats

50g applesauce

60g coconut oil

30g olive oil

1tbs blackstrap molasses

85g muscovado sugar

1tsp aluminium free baking powder

1/2tsp guar gum

Pinch of salt
Instructions
Soak and cover the sour cherries in filtered water and set to one side.
In a high-speed processor grind the almonds, millet, flaxseeds, oats and salt. Transfer to a large mixing bowl.
Stir in the muscovado sugar, guar gum and baking powder.
Pour in melted coconut oil and olive oil together with the blackstrap molasses and applesauce. Combine well.
Drain the sour cherries and toss into the cookie mixture.
Rest the dough for an hour.
Pre-heat the oven to gas mark 180 degrees Celsius or if you have a fan oven 160 degrees Celsius.
Line large baking tray with parchment paper and oil.
Take an ice-cream scoop, and scoop out some dough. Use a knife to sweep away any excess.  Scoop onto the parchment paper. Repeat until your tray is full but make sure there is sufficient space to permit the cookies to spread out as they bake.
Bake in the oven for 10 minutes.
Remove the trays from the oven and allow the cookies to cool down before serving.
Store in a sealed container between pieces of parchment paper.