Banana Bread with Chocolate Frosting came about because I recently had a survey undertaken asking my followers what they wanted to see more of. Desserts seem to be the preference with much simpler ingredients. So, here we go… This banana bread is soft and light and the chocolate frosting just gives it that added sweetness.
What to do next
Tag me on @ethiveganquantum on Instagram to show me what you've made and let me know you're happy for me to share.
My recipes are featured in vegan speciality publications: Nourished, Vegan Life, Plant Based and Vegan, Food and Living.
Order my first self-published book, "Essence: The Beginner's Guide to Veganism" part of the three-part Circle of Food series. My second book "Presence: The Ascending Vegan" – which explores how to maintain a vegan practice is out in 2027 – I have compiled all the chapters including recipes.
Going strong since 2013.
Love.
Edward x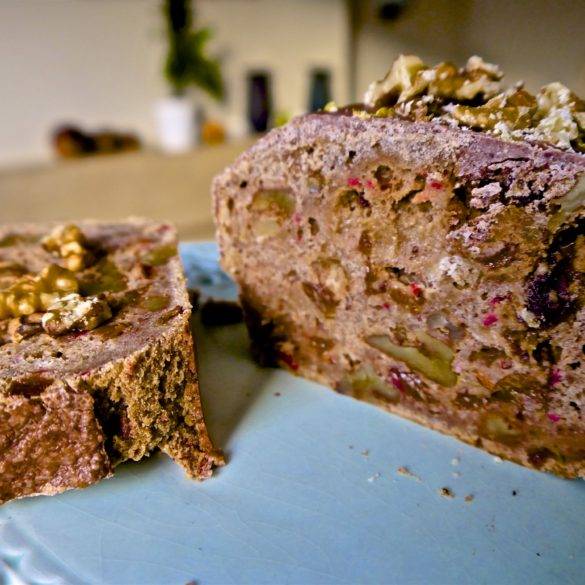 Ingredients
100g sultanas
75g port
250g "00" doppio flour
100g coconut unrefined sugar
1tbs baking powder
pinch of salt
50g walnuts, chopped
50g cherries, destoned and halved (optional)
100g coconut oil
2tbs flaxseed, ground
6tbs water
1tsp vanilla extract
zest of 1 lemon
500g bananas
For the frosting
200g creamed coconut
50g unrefined cane sugar
1tbs cocoa powder
2tbs flaxseeds, ground
Instructions
Preheat the oven to gas mark 170 degrees.
Soak the sultanas in port and set to one side for about an hour until the sultanas plump up.
Melt the coconut oil and leave to one side.
Whisk the flaxseed with the water and leave to one side.
Place the flour, sugar, baking powder and salt in a large mixing bowl. Add the walnuts and cherries (if using). On a low setting on the mixer combine.
Add the oil and flaxseed mixture to the bowl. Combine well.
Add the vanilla extract and lemon zest and continue blending.
Mash the bananas and add to the bowl. Bring the ingredients together.
Lightly oil and line a loaf tin with baking paper. Pour the mixture into the tin. Smooth over the top and cover with aluminum foil. Place in the oven for about an hour or until a skewer runs through. Remove the cake from the oven and set aside for 5 minutes before turning over onto a wire rack. Keep the cake in the baking paper.
To make the frosting, melt the creamed coconut over a gentle heat. Add the sugar. Combine weil. Once the sugar has melted into the coconut sift in the cocoa powder and add the flaxseeds. Stir until well combined. Set aside for about 15 minutes.
Once the cake has cooled gently with the back of spatula layer the frosting onto the cake. Allow the frosting to drip over the sides. Place in the fridge for about 30 minutes.