Beetroot and Sumac Raw Crackers just make a versatile addition. These crackers are a wonderful condiment to dips and sauces.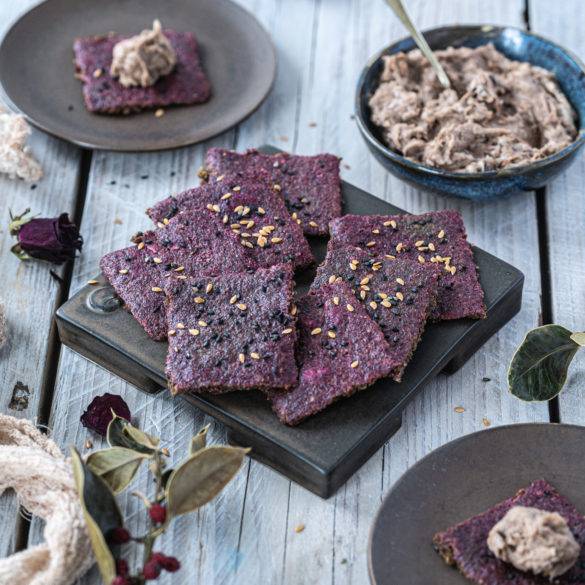 Ingredients
1 medium beetroot
100g flaxseeds
100g sunflower seeds
25g sesame seeds
10g psyllium husk
200ml water
1tsp sumac
½ tsp salt
Garnishing
Flaxseeds
Sesame seeds
Instructions
Grind the seeds with the salt in a high-speed blender until fine. Place in a bowl with the psyllium husk and sumac.  Mix well.
Blend the beetroot and water until well combined.
Mix until all the powders are integrated.
Line the Teflon lining of a dehydration tray with coconut oil.
Spatula the mixture onto the Teflon lining. Use a palette knife to smooth over. Spread out to about 2 or 3 cm thickness. Shape into a large square. Sprinkle on the seeds onto the mixture and using your fingers gentle press and embed into the mixture.
Dehydrate in a dehydrator for 4 hours.
Cut the crackers into little squares using a sharp knife being careful with the lining. Use the palette knife to go under the crackers so that they come away if they are stuck. Grab another Teflon and tray and place over the crackers. Flip over the tray so that you use the second tray for your crackers.
Place the second tray in the dehydrator for a further 4 hours. The crackers are done when they are dry but still have a slight spongy bounce to them.  Keep in a tight sealed container for no more than a week.