Mushroom and Sunflower Seed Pasticcio is a one of those comfort foods and what I love about this dish is the contrast between the chewy melty pasta and the crunch of the sunflower seeds.
What to do next
Tag me on @ethiveganquantum on Instagram to show me what you've made and let me know you're happy for me to share.
My recipes are featured in vegan speciality publications: Nourished, Vegan Life, Plant Based and Vegan, Food and Living.
Order my first self-published book, "Essence: The Beginner's Guide to Veganism" part of the three-part Circle of Food series. My second book "Presence: The Ascending Vegan" – which explores how to maintain a vegan practice is out in 2027 – I have compiled all the chapters including recipes.
Going strong since 2013.
Love.
Edward x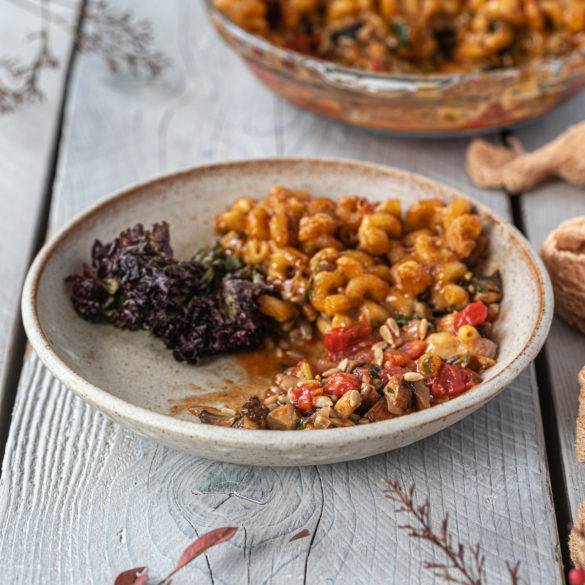 Ingredients
Filling
2 shallots
150g portobello mushrooms
2tbs olive oil
2 cloves of garlic, minced
200g plum tomatoes
100g sunflower seeds
Few sprigs of parsley, chopped
1tbs white wine vinegar
1tsp smoked paprika
½ lemon, juice
Season to taste
Bechamel Sauce
50g coconut oil
50g tapioca flour
200ml strong ale
2tsp wholegrain mustard
1tsp white vinegar
1tsp tamarind sauce
pinch cayenne pepper
200g "melty" vegan cheese, grated
Pasta
200g pasta
Instructions
Make the bechamel sauce by grating the cheese and placing in a blender with the remaining sauce ingredients. Blend until smooth. Season to taste. Set to one side.
Preheat oven to gas mark 180 degrees Celsius or if convection oven to 160 degrees Celsius.
Remove the skin of the tomatoes by submerging in boiling water for a couple of minutes so that is it is easier to peel off the skin.
Dice the mushrooms and sauté with the shallots in the oil until the shallot turns translucent. Place in a large mixing bowl with the remaining filling ingredients. Combine well and place into a baking dish.
In a large saucepan half cook the pasta in boiling water for about 5 minutes. Drain and in a separate bowl add in the bechamel sauce.
Add the bechamel sauce on top of the filling.
Bake in the oven for 20 minutes.
Serve warm.