Fleshy moist Beetroot Haricot Bean Burgers with fragrant coriander, cumin, fennel, garlic, ginger and lemon.
Ravage your loins with something meaty. And, bite.
This dish will obliterate your belief that vegan food can't be an easy substitute for non-vegan.
Make this:
When it's blistering outside. You have a bbq to organise and scratching your head. These Burgers will hit the nail. And, will have them gushing for more
When you've got a family of hungry mouths too feed. A dish that'll be light on your pockets. And, full in the stomach is what you need
When you fancy a little comfort eating. And, a dish that'll have you satiated and nourished
Beetroot Haricot Bean Burgers were inspired because I wanted to create burgers that looked fleshy and yet were equally nourishing. Beetroots give that colour and yet with mixed in with the spices give that meaty hearty taste.
These Bean Burgers are vegan and gluten-free.
What equipment to use
For this recipe, I suggest:
Food processor
Air fryer/BBQ
Stove
What to do next
Tag me on @ethiveganquantum on Instagram to show me what you've made and let me know you're happy for me to share.
My recipes are featured in vegan speciality publications: Nourished, Vegan Life, Plant Based and Vegan, Food and Living.
Order my first self-published book, "Essence: The Beginner's Guide to Veganism" part of the three-part Circle of Food series. My second book "Presence: The Ascending Vegan" – which explores how to maintain a vegan practice is out in 2027 – I have compiled all the chapters including recipes.
Going strong since 2013.
Love.
Edward x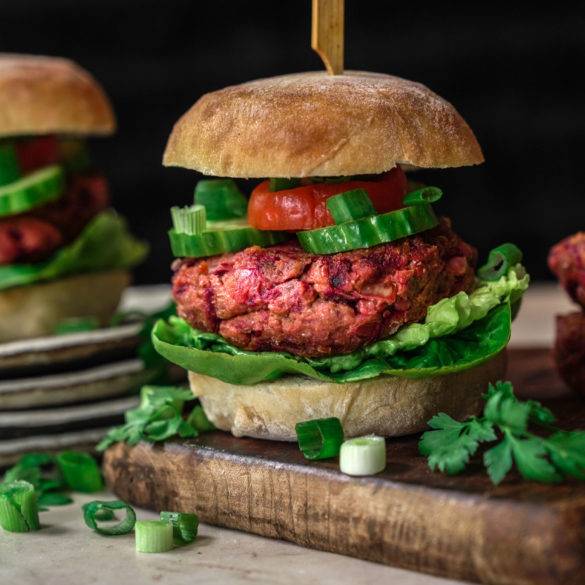 Ingredients
200g haricot beans

50g flaxseeds

50g buckwheat groats

1 onion, chopped

2tsb olive oil

1tbs coriander powder

1tbs cumin seeds

1tbs fennel seeds

½ tsp salt

2 cloves of garlic

½ inch ginger

½ lemon, juice

1 large beetroot, grated

Oil for frying
Instructions
Soak the beans in filtered water for a period of overnight.
Cook the beans in a pressure cooker for about 25 minutes. Drain and leave to one side.
Sauté the onions in oil until translucent.
Once the beans have cooled down, place into a food processor with the remaining ingredients except the beetroot, buckwheat and flaxseeds mixture. Transfer to a large mixing bowl.
Grind the buckwheat and flaxseeds in a high-speed blender. Transfer to the mixing bowl with grated beetroot. Combine well. Knead the mixture.
Have a bowl to one side with lukewarm water to dip your hands into now and again.
Take a small handful make into a round circle with the palm of your hands. Keep repeating till you use up the mixture. Have a tray lined with parchment paper to the side to place each burger. Gently sauté the bean burgers in oil until lightly browned on both sides. Keep refrigerated until ready to eat. This mixture will keep for about a day or two.
To heat up transfer to air fryer on 180 degrees Celsius and heat for 5 minutes. Alternatively, place on a barbeque grill and heat until golden brown on both sides.
Serve on its own or in a bap.