Vegan meatballs came about because I wanted to show how easy it is create an alternate nourishing meal. Once you have your base recipe you can experiment and refine and create your own version. This is simply my version of vegan meatballs. I use Aduki beans because they have a slightly nutty flavour to them and the mixed nuts and a certain texture to this dish too. The flavourings added here are intended to add depth to the vegan meatballs.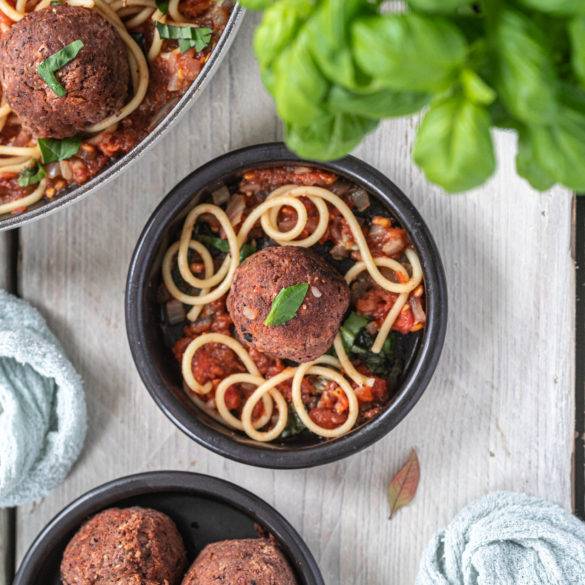 Ingredients
200g Aduki beans
500ml filtered water
2tbs flaxseed, ground
1 onion, diced
2tbs olive oil
3 garlic cloves
1tbs coriander powder
1tbs cumin seeds
1tbs smoked paprika
1tbs marjoram
1tbs oregano
1tbs tamari
½ inch ginger, grated
½ lemon
125g buckwheat, ground
100g chopped nuts (I use walnuts)
Season to taste
Oil for frying
Instructions
Soak the Aduki beans in 500ml water for a couple of hours. Pressure cook for about 20 minutes until they soften and yet retain a slight nutty texture to them. You can still cook over the stove but it may take longer. Drain over a sieve and set to one side.
Sauté the onions in oil until translucent. Set to one side.
Place the beans into a food processor and whizz with till fine. Place into a large mixing bowl with all the other ingredients.  Knead in with your hands.  Season to taste. Set to one side for 30 mins.
Using both hands, roll portions of the Aduki bean mixture into balls. Set to one side.
When ready to serve, for example, with a marinara sauce, or combine with another dish, sauté the vegan balls in olive oil until they brown all over.