Tantalise your tastebuds with pure exquisiteness.
Succulent tangy burst Blueberry Pie infused with citrus lemon and earthy cinnamon on a millet teff pastry bed.
This dish will obliterate any belief that vegan food can't be scrumptious.
Make this:
When your laden with blueberries following a scrounge at your local farmer's market
When you fancy a slice of indulgence with a dollop of vanilla ice-cream in tow
When you've got a festive bug and you're grappling with your dancing hips and a mouth-watering dish beckons
Blueberry Pie was inspired when I'd discovered reduced price Blueberries at my local supermarket. Always, up for a bargain I grabbed the remaining punnets, enthused I could make Blueberry Pie.
Blueberry Pie is a vegan dessert and gluten-free.
Love.
Edward x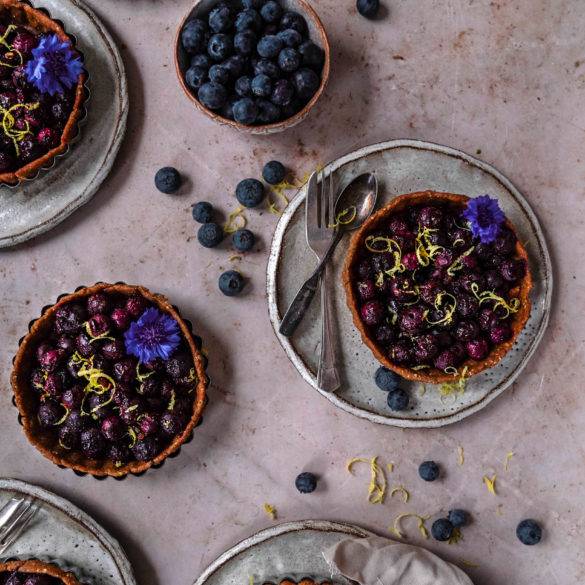 Ingredients
For filling

660g blueberries, fresh

50g raw unrefined cane sugar

½ lemon, juice

1tsp agar agar

For pastry

100g millet

50g teff flour

50g tapioca flour

40g oats

40g flaxseeds

25g raw unrefined cane sugar

1tsp xanthan gum

Pinch of salt

70ml filtered water

45ml olive oil
Instructions
Toss half of the blueberries into a saucepan and gently heat for about 5 minutes. As they burst switch of the heat and stir in the agar agar, sugar and lemon juice and remaining blueberries. Set to one side.
Make the pastry by grinding the millet, oats, flaxseeds, and sugar In a high-speed food processor. Transfer to a large mixing bowl. Toss in the teff, xanthan gum and salt.
Pour in the oil and water. Knead into a dough and set aside for 10 minutes.
Pre-heat the oven to gas mark 180 degrees Celsius or if a convection oven to 160 degrees Celsius.
Weigh the dough and divide the dough into 6 for 5-inch tart tins or alternatively, small tart tins. Line tartlets with olive oil.  Place the dough between two pieces of parchment paper and roll into a circle.  Shape the dough into the tart tin.  Fork the dough.
Spoon the blueberry mixture into the tins. If there is any extra dough, make into shapes. Brush the pastry with olive oil.
Bake in the oven for about 15 minutes until the crust turns into a light golden colour.
Remove from heat and set to one side.
Serve warm with some ice cream or vegan cream. Dust with icing sugar just before serving.