Roasted Butternut Squash boats with marinaded aubergine, courgettes and onions and infused with citrus orange, paprika, thyme and cinnamon.
Quiver with delight. And, dive in.
This dish will topple your belief that vegan food can't be super yummy.
Make this:
When you want to amaze your Dinner party guests with a visually stunning easy to put together dish
When you fancy lounging in front of a good flick with your feet curled up on the sofa
When your mates pop over for games night and need a little light supper to grease your palms
Roasted Butternut Squash was inspired when out in Greece and being served with an array of satiable dishes by a dish and loving the rich colour of butternut squash.
This savoury dish is vegan and paleo.
What equipment to use
For this recipe, I suggest:
Oven
What to do next
Tag me on @ethiveganquantum on Instagram to show me what you've made and let me know you're happy for me to share.
My recipes are featured in vegan speciality publications: Nourished, Vegan Life, Plant Based and Vegan, Food and Living.
Order my first self-published book, "Essence: The Beginner's Guide to Veganism" part of the three-part Circle of Food series. My second book "Presence: The Ascending Vegan" – which explores how to maintain a vegan practice is out in 2027 – I have compiled all the chapters including recipes.
Going strong since 2013.
Love.
Edward x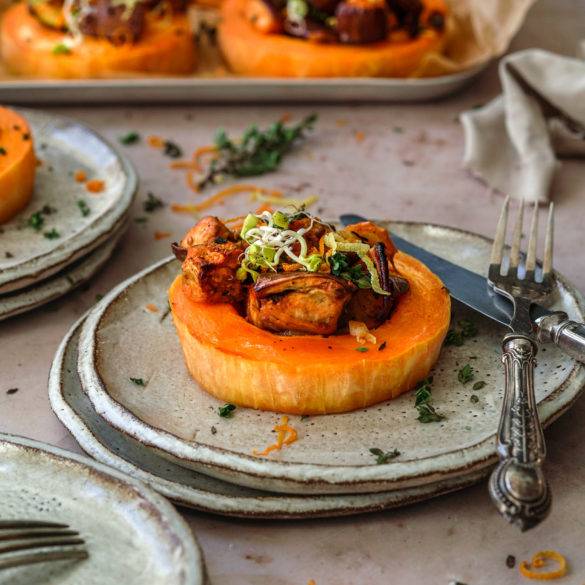 Ingredients
1 butternut squash

1 aubergine

1tsp salt

1 courgette

1 onion

Marinade

3tbs olive oil

2tbs cider vinegar

½ orange juice

1tsp smoked paprika

1tsp cinnamon powder

Pinch of salt
Instructions
Roughly chop the aubergine and place in bowl. Rub the aubergine with salt and set to one side, replaced in a colander over a bowl. Set aside for about 30 minutes.
Make the marinade by mixing together the marinade in a large bowl.
Pre-heat the oven to gas mark 180 degrees Celsius or if a convection oven to 160 degrees Celsius.
Peel the skin of the butternut squash and slice into 1.5cm thick mandilions. Scoop out any seeds. Place on parchment on a baking tray.
Wipe the aubergine chunks in a tea towel to remove any excess moisture and toss into the marinade with the chopped courgettes and sliced onion.
Scoop the vegetable chunks and place into the butternut squash boats.
Roast in the oven for 25 minutes.
Serve warm.