Gobble down something sweet and sensual that will pop in your mouth. And, roar.
Sweet tangy sultanas and tart apples gently stewed in buttery nutty caramely port with a hint of cherry-candy-like scented cinnamon and citrusy lemon topped off with burst redcurrants.
This dish will burst your bubble that vegan food can't be fulfilling.
Make this:
When you're looking for an accompaniment to go with the pancakes you're dishing up
When you're wanting to rustle a quick and dirty dessert that will go with vegan cream or ice cream
When you're wanting a simple boozy dessert to top off the dinner party you're having
Boozy Stewed Redcurrants Sultanas and Apples was inspired by school lunches sitting at the cafeteria yapping with mates.
Pearl sized redcurrants are berries huddled on elongated stems on small bushes. Handpicking them on your hands and knees is the way to forage them, preferably with a cushion underneath. With a healthy dose of vitamin C, the pulp tart flesh and edible seeds make a great pairing with other fruit, complementing sultanas and apples. Native to Europe and Asia, they're fairly easy to grow, though you'll need to wait for a couple of years until they bear fruit.  Make sure you cover your bush with netting, otherwise the birds will have'em before you know it.
Sultanas, otherwise known as golden raisins, made from certain varieties of seedless dried oval white games, darkening as they age.
Bramleys, otherwise known as "cookers", make fantastic culinary apples. They're native to Britain. Their characteristically tangy flavour is preserved during the cooking process.
Boozy Stewed Redcurrants Sultanas and Apples is vegan and paleo.
Love.
Edward x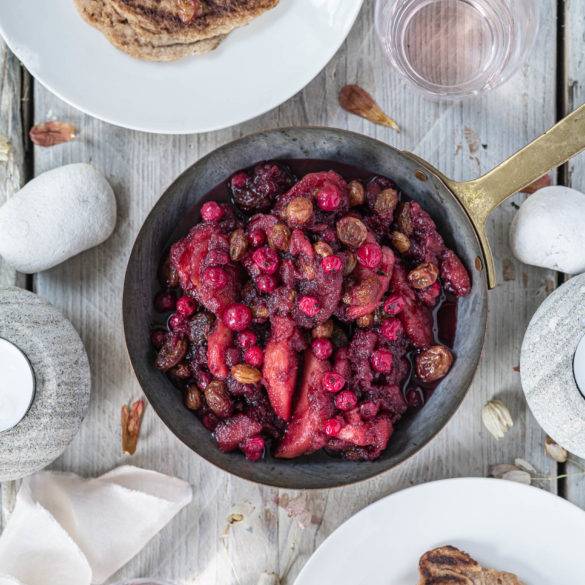 Ingredients
50g redcurrants

50g sultanas

400g apples, bramley

100ml port

25g raw unrefined sugar

pinch of salt

½ lemon, juice

1 tsp cinnamon or ½ cinnamon stick, ground
Instructions
Peel and core the apples to remove the pips.  Place the apples in filtered water while you are peeling and coring.
Place the sultanas, apples, port, sugar, salt and juice and cinnamon in a large saucepan. Cover with a lid.  Stew the apples over a medium heat until they soften. This will take about 10 minutes.
Add in the redcurrants and stew for a further 5 minutes.
Serve with pancakes, vegan cream or ice cream.