Velvety almond cheese wrapped in creamy buttery broad beans and earthy celery coated in crispy nutty sesame/flaxseeds; Vegan Cheese Arancini.
Bite into something smooth and round… And, enjoy something that will wet your appetite. And, melt.
This dish will burst your belief that you can't have a yummy cheese as a vegan.
Make this:
When you've got a dinner party and want a cheese course that'll get your guests yapping at the bits as you bring the port out
When you've got a picnic and want bite-sized portions as you take a break from Rounders
When you want a little extra treat to go with the sandwiches you've packed for your kiddie's luncheon
Vegan Cheese Arancini was inspired by a garden potluck in the rolling hills of the Hampshire countryside. I had been staying with friends. And, as we sat outside in the blistering heat, we removed the outside skins of the broad beans.  Imagine sitting on a large wooden table on these gorgeous home-made chairs. We were listening 80s music and getting into the zone.
This dish is a take on Arancini, which originate from Sicilian cuisine as stuffed rice balls coated in breadcrumbs. Arancini translates into "little oranges", as it's frying them which turns them golden orange.  Originally introduced into Sicily by Arab invaders, they make the perfect high-octane snack and for great for picnics too. Traditionally, made using leftover risotto, Arancini come in various variations nowadays. This Vegan Cheese Arancini simply uses that idea and uses almonds, sesame seeds and broad beans.
Grapes work marvellously as an accompaniment.  I like to serve these Arancini with a nice bottle of Châteauneuf-du-Pape; a rich-bodied wine.
Vegan Cheese Arancini is raw, gluten-free and paleo, and Italian cuisine.
Where I get my ingredients from
Almonds, I purchase from a nifty Asian outlet in Hayes.  It has an online presence too which can be found here – I love it because it is reasonably priced and tends to be good quality stuff which I use.
What equipment to use
For this recipe, I suggest:
Dehydrator
Chopper
High-speed blender
What to do next
Tag me on @ethiveganquantum on Instagram to show me what you've made and let me know you're happy for me to share.
My recipes are featured in vegan speciality publications: Nourished, Vegan Life, Plant Based and Vegan, Food and Living.
Order my first self-published book, "Essence: The Beginner's Guide to Veganism" part of the three-part Circle of Food series. My second book "Presence: The Ascending Vegan" – which explores how to maintain a vegan practice is out in 2027 – I have compiled all the chapters including recipes.
Going strong since 2013.
Love.
Edward x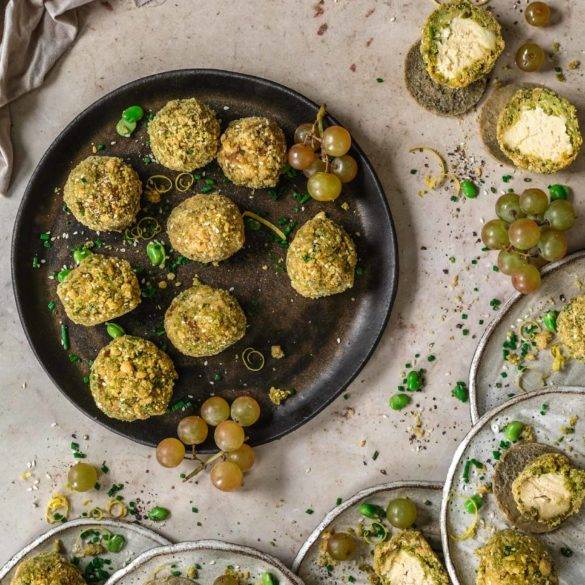 Ingredients
300g almonds, unblanched

150ml filtered water

1 tsp probiotic powder or 2 x 20 billion live cultures

1tbs garlic powder

1tbs onion powder

½ tsp salt

½ lemon, juice

250g broad bean seeds

Pinch of salt

300g celery

200g sesame

100g flaxseeds
Instructions
Boil some water. Pour into a large mixing bowl. Dunk and blanch the almonds. You may have to dunk them in refreshed boiling water again. Remove skin from each almond. Transfer blanched almonds to a fresh bowl.
In a high-speed blender, whizz together the almonds, water, and probiotic. Transfer the cheese to a bowl and cover with cling film, ensuring any air is removed – you want the probiotic to take effect without other bacteria vying for growth.  Place in the fridge for at least 3 or 4 days. The longer you leave the more mature the cheese will become.
Transfer the cheese to a mixing bowl. Toss in the garlic and onion powders, salt and lemon juice. Leave to stand a few minutes.
Measure about 30g of cheese and use both hands to form a ball. Ensure you have a bowl of water to the side – and dip your palms into – it makes the rolling of the balls easier as the cheese balls will be sticky. Transfer to a Teflon sheet to be used on a dehydrator tray. Continue until completed.
Place the dehydrator tray and dehydrate at 43 degrees for a couple of hours.
Blanch the broad beans in boiling water for a couple of minutes and then place in cold water. Pat dry with a tea towel. Transfer a Teflon sheet on a dehydrator. Dehydrator for about 30 minutes at 43 degrees. You want to ensure you have dried broad beans.
Transfer beans to a chopper. Roughly shop and transfer to a large bowl. Set to one side
Toss the celery into a high-speed blender. Whizz until liquidised. Pour into a large bowl. Set to one side.
Grind the sesame seeds and flaxseeds and place in the coating separate bowl.
To make the Arancini, first dip the cheese in the celery water bowl, then into the broad bean bowl, back into the celery water and finally coat in the seeds. Ensure you have a bowl of water to the side to help if your hands get sticky. Return to the Teflon sheet. Repeat until completed.
Return the Arancini and dehydrate at 43 degrees Celsius for about 4 hours, turning every now and then.
Serve the Arancini with crackers or bread, as necessary.