Vegan Mortadella with hints of peppery-like Myrtle berries, cherry-candy-like scented cinnamon, floral woody cloves and sweet fragrant nutmeg with freckles of creamy pistachios.
Gorge on some Italian sausage and enjoy the taste of something fleshy. And, chew.
This dish will shatter your belief that vegan food can't deliver a vegan meat that'll knock your socks off.
Make this:
When you're craving for a sandwich filler for a few days that will see you through lunch at work
When you've got a picnic arranged and want some vegan luncheon meat as part of your exquisite contribution
When you fancy something reminiscent of your trip to Italy but want to create that moment back at home
Vegan Mortadella was inspired by lunchtimes nipping out to the Italian deli queueing for freshly made sarnies.
This inspired original 16th Century luncheon meat used Myrtle berries, cinnamon, nutmeg, cloves, moss and salt. Back then black peppercorns hadn't yet been imported to Europe from the East. Nowadays, peppercorns are commonly used instead.
To recreate this vegan version of Mortadella, I hunted far to find Myrtle berries stocked in London. It was slightly frantic as I'd promised Plant Based Mag that I'd produce a couple of Seitan dishes by the end of the weekend for one of their forthcoming issues.  Time wasn't on my side.
Fortunately, I'd located a small Italian supplier who sold Myrtle berries, freshly sourced form a small organic farm in Sardinia.  Luckily too he was making a delivery to the Deli Downstairs in London Fields and so was able to collect these berries from him.
Here's a shout out to Antonio.  He's based in South London, and sells his artisan produce at markets and local speciality delis.
You can purchase Myrtle berries from him here
(I don't get any kick back from the shout out but I support small suppliers where I can).
Myrtle berries have a dark blue skin having a juniper-peppery-rosemary taste. They're native to the Mediterranean and best time to pick them in November.
Keep the leaves as I'll be creating some recipes using those in future. Once open keep in a sealed container. You only need 10 for this recipe. So, a little goes a long way.
Vegan Mortadella is a special creation and one of my signature dishes.
What to do next
Tag me on @ethiveganquantum on Instagram to show me what you've made and let me know you're happy for me to share.
My recipes are featured in vegan speciality publications: Nourished, Vegan Life, Plant Based and Vegan, Food and Living.
Order my first self-published book, "Essence: The Beginner's Guide to Veganism" part of the three-part Circle of Food series. My second book "Presence: The Ascending Vegan" – which explores how to maintain a vegan practice is out in 2027 – I have compiled all the chapters including recipes.
Going strong since 2013.
Love.
Edward x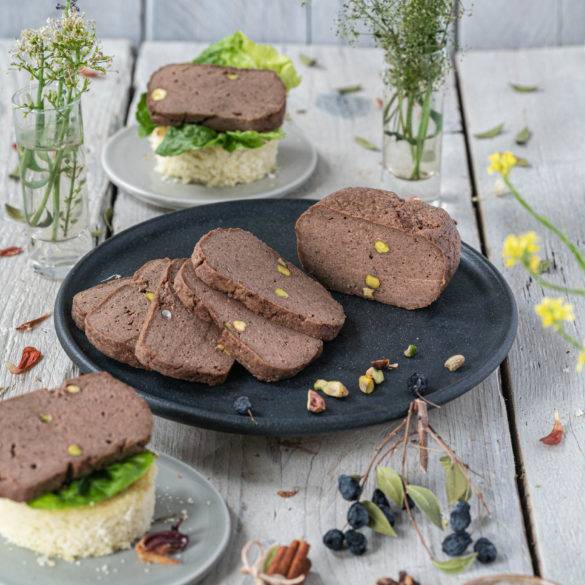 Ingredients
5g Irish moss

150ml water

2 tsp cinnamon, ground or small cinnamon stick

1 tsp Nutmeg, ground or ½ nutmeg

10 Myrtle berries (or 5 black peppercorns, if unavailable)

4 cloves

250g jackfruit

85ml Dry white wine

½ tsp salt

20g nutritional yeast

1 tbs beetroot powder

1tsp garlic powder

1tsp onion powder

190g vital wheat gluten

20g pistachios

2tbs olive oil
Instructions
Soak the Irish Moss in 150ml of water overnight. Set to one side.
Preheat the oven to 180 degrees Celsius or with a convention oven to 160 degrees Celsius.
Grind the myrtle berries, cinnamon, nutmeg and cloves and transfer to a high-speed blender.
Add with the Irish Moss and water into the blender the jackfruit, wine, nutritional yeast, beetroot powder, garlic and onion powders. Whizz to a fine consistency. Transfer to a large mixing bowl.
Toss in the wheat gluten to the mixing bowl. Only mix sufficiently to ensure that the gluten is absorbed by the jackfruit mixture.
Sprinkle in the pistachios and lightly move the gluten round to absorb. Do not overwork it.
Drizzle oil over to coat the Mortadella.
Place the seitan loosely in aluminium foil and place in a large baking tray half filled with water. Ensure that the seitan is not directly interact with the water. The steam from roasting should ensure that the seitan remains moist.
Roast the seitan in the oven for about an hour.
Switch the oven off and allow the seitan to rest in the oven for about 15 minutes.
Serve warm or at room temperature with gravy or as a nice sandwich filler.