Lemony-olivy caperberries, preserved artichokes tossed with crunchy nutty freekeh, hint of cardamon, lemon, fresh tarragon and crushed garlic and garnished with pistachios; Caperberry Artichoke Freekeh Salad.
Savour a mouth of something exotic and tantalising as your wrap it around your tongue. And, swallow.
This dish with smash any belief that vegan food can't be simple to make.
Make this:
When you've just returned from a hard day at the office and want to throw a little something special that will dissolve all thoughts and have you focusing on your lush food, instead
When Spring is in the air and you've got tarragon aplenty and the thought of a light salad thrown together gets you quivering
When you've got a distressed call from a mate who's all upset and need to rustle up a dish that's quick and simple and you're still there as the helpful earpiece 
Caperberry Artichoke Freekeh Salad was inspired when visiting family in Casablanca and idling the day as we sat in the open-air indulging on freekeh and an array of exotic spices and vegetables.
Freekeh is a drought tolerant crop, found in North African and Middle-Eastern countries. It is made from cracked durum wheat, literally, wheat berries rubbed together during production.  When picked it is unripe, and then gently roasted over wooden fires burning the husks to reveal a smoky woody flavour.
Its green in colour and high in protein and indigestible fibre. The benefit of this type of fibre is that It promotes the microbiome, supporting digestive health.
Caperberry Artichoke Freekeh Salad is vegan.
What to do next
Tag me on @ethiveganquantum on Instagram to show me what you've made and let me know you're happy for me to share.
My recipes are featured in vegan speciality publications: Nourished, Vegan Life, Plant Based and Vegan, Food and Living.
Order my first self-published book, "Essence: The Beginner's Guide to Veganism" part of the three-part Circle of Food series. My second book "Presence: The Ascending Vegan" – which explores how to maintain a vegan practice is out in 2027 – I have compiled all the chapters including recipes.
Going strong since 2013.
Love.
Edward x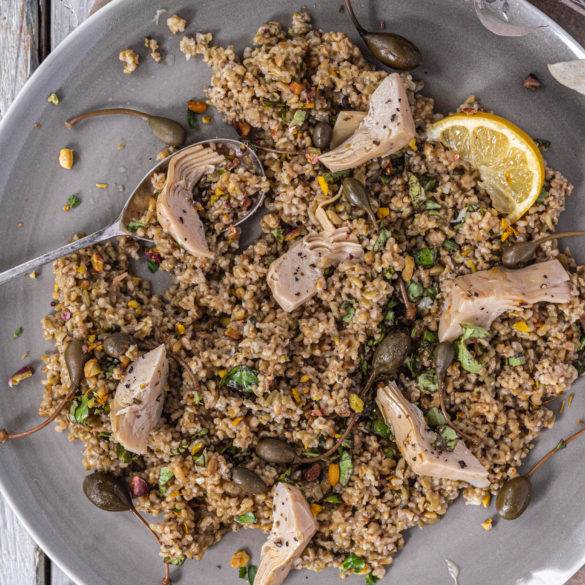 Ingredients
250g smoky freekeh

4 cardamon pods, seeds

100g preserved artichokes

30g caperberries

875ml filtered water

2tbs olive oil

2 cloves garlic, crushed

1/2 lemon, juice

Few sprigs of tarragon

Pinch of salt and pepper

Garnishing

Pistachios
Instructions
Ground the cardamon and place with the freekeh and water in a pressure cooker. Pressure cook for 12 minutes. Remove and place in mixing bowl.
Add oil, lemon, garlic, lemon and tarragon and mix well. Season to taste. Transfer to a serving dish.
Sprinkle over caperberries and artichokes. Lightly toss.
Garnish with pistachios.
Serve.