Marinaded Persian tangy sumac, caramelly tamarind, citrus dry lime, parsley with freshly sprouted mung beans; Persain Sprouted Mung Beans.
Get something exotic and pranic into your orifice as raw light energy infuses with your body. And, indulge.
This dish will obliterate any belief that vegan food can't be super easy to make.
Make this:
When you've got friends over for a healthy meal and need a dish to contrast with less sharper dishes
When you fancy a light-highted dish which has a little kick yet exotic too
When you've got a raw potluck with a dish that'll have your new acquaintances swooning at your creation
Persian Tamarind Lime Mung Beans was inspired when attending a raw potluck with cooks from all over the World, and the exotic flavours came bursting through.
Persian flavours in this dish include a medley of wholesome flavours; tangy sumac, dry limes, tamarind, raisins and parsley.  Marked by food that evokes balance, Persian cuisine has its own ancient heritance creating a flow of energy between body and mind.
Persian Tamarind Lime Sprouted Mung Beans is vegan and raw.
What to do next
Tag me on @ethiveganquantum on Instagram to show me what you've made and let me know you're happy for me to share.
My recipes are featured in vegan speciality publications: Nourished, Vegan Life, Plant Based and Vegan, Food and Living.
Order my first self-published book, "Essence: The Beginner's Guide to Veganism" part of the three-part Circle of Food series. My second book "Presence: The Ascending Vegan" – which explores how to maintain a vegan practice is out in 2027 – I have compiled all the chapters including recipes.
Going strong since 2013.
Love.
Edward x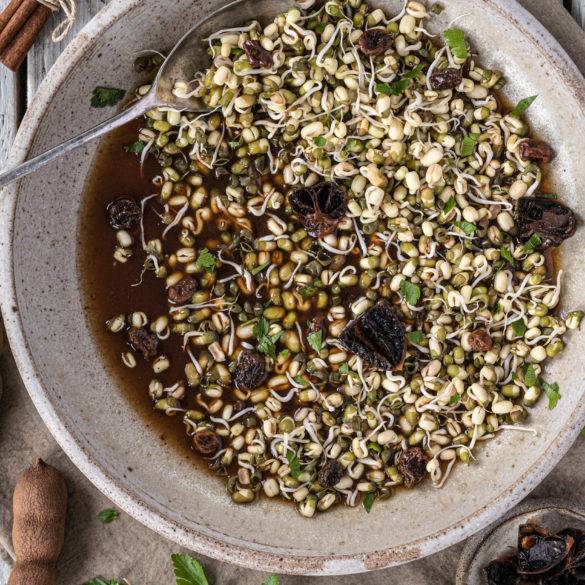 Ingredients
200g mung beans

4 dry limes

250ml filtered water

1tsp sumac

1tbs tamarind paste (10g fresh tamarind destoned)

2 dates, destoned

50g raisins

Few sprigs of parsley
Instructions
Soak the mung beans in filtered water for 24 hours. (Day 1)
Drain and place in a colander over a large bowl – ensure there is sufficient aeration to allow the mung beans to sprout. Leave to one side for about 48 hours. (Day 2 and 3).
Chop the limes and place in 250ml of filtered water. Cover and set to one side. (Day 3).
Discard the limes and retain the juice. Destone the tamarind, and whizz the lime juice with the dates. Place in bowl with the sumac and raisins. Set to one side for about 30 minutes. (Note you can eat the limes – its common in Persian dishes to do so – but I find it's too much for me…)
Marinade the mung beans in the tamarind and lime mixture for a couple of hours.
Serve with some chopped parsley – note if the marinade is too potent, just serve the mung beans on its own.