Gear up your loins for a tasty bite.  And, melt.
Opulent moist fudgy Carob and Thyme Cake with toasty chocolate like carob, citrus-laced thyme in an earthy black turtle bean pastry.
Have you ever tried carob?
This dish will vaporise any belief vegan food can't be super yummy.
Make this:
When you're looking for a less bitter chocolate substitute or simply ran out of chocolate
When you've just been to the beach and fancy a little bit of decadence as you swig down that Expresso Martini
When you've got you've got your favourite Aunt Betty over for supper as you reminiscence about your childhood
Carob and Thyme Cake was inspired when I'd discovered to my repulsion (not really, just saying that for dramatic effect), I'd run out of chocolate. I did have carob instead. I also had a wild thyme plant that had these gorgeous swirls of sprigs dangling from their perch.
Carob is a legume, high in anti-oxidants and it's made from dried, roasted carob tree pods. It. Is frequently used as a popular chocolate substitute.
Carob and Thyme Cake is vegan and gluten-free.
Love.
Edward x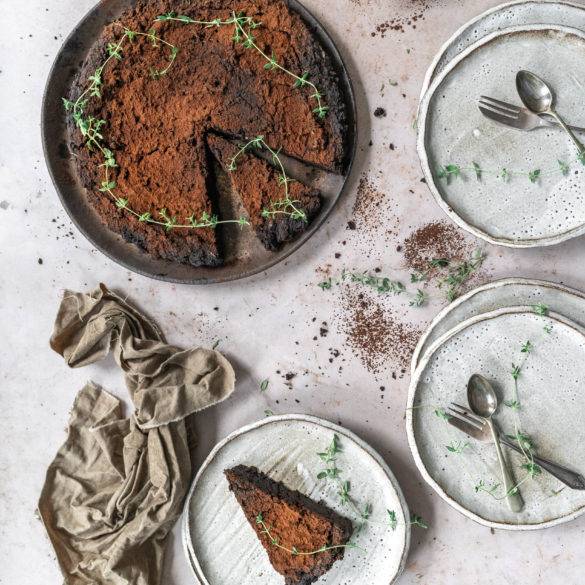 Ingredients
150g black turtle beans

25g almonds, blanched ground

25g millet

50g carob powder

100g raw unrefined cane sugar

1tsp baking soda

Pinch of salt

50ml oil

40ml filtered water

½ lemon, juice

Few sprigs of thyme
Instructions
Soak the black beans in water for about an hour.
Pressure cook the black beans for 30 minutes. Drain and place on a sieve. Set to one side.
Pre-heat the oven to gas mark 180 degrees Celsius or if you have a fan oven 160 degrees Celsius.
Line a cake tin with olive oil and line with parchment paper.
In a high-food processor grind the almonds, millet, sugar and salt. Transfer to the mixing bowl with the carob powder and baking soda and swirl in with a spatula.
In a food processor mix together the beans, water, oil and lemon juice. Transfer to the mixing bowl with the water and oil.
Springle in a few thyme leaves.
Pour the mixture into the cake tin.
Cover the tray in aluminium foil and bake in the oven for 50 minutes
Remove from heat and set to one side until cool.