Get your sweet lips to bite into something tangy. And, indulge.
Salacious succulent tart Plum Hand Pies with citrus lemon folded into a pillowy rice, buckwheat and quinoa pastry.
This dish will topple your belief that vegan food can't be super nourishing.
Make this:
When you've just hoisted yourself back from a foraging trip laden with fresh plums
When you've got the kids making copious noise and need a dish to make that'll keep them entertained
When you've a soiree and some hand pies will do nicely with the cuppas you are to serve
Plum Hand Pies was inspired when I was visiting a friend and she made making hand pies so incredibly easy. I just had to join in the fun.
Plum Hand Pie is vegan and gluten-free.
Love.
Edward x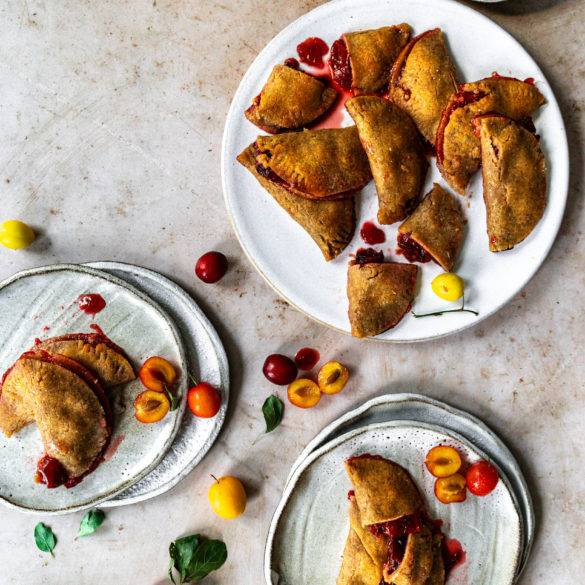 Ingredients
Pastry

100g glutinous (sweet) white rice flour

50g buckwheat groats

50g quinoa

60g tapioca flour

30g oats

35g flaxseeds

20g psyllium husk

25g raw unrefined cane sugar

1tsp baking powder

40g coconut oil

30g prune puree (I freeze any left-over puree until next time)

200ml boiling filtered water

½ lemon juice

Pinch of salt

Filling

400g plums

150g raw unrefined cane sugar

½ lemon, juice
Instructions
Destone the plums and place in a saucepan and drizzle with sugar and pour over the lemon juice. Cover and set aside.
Pre-heat oven to 180 degrees Celsius or if convection oven to 160 degrees Celsius.
In a high-speed food processor, grind the buckwheat groats, quinoa, oats, flaxseeds, psyllium husk, sugar and salt until fine. Transfer to a large mixing bowl. Add in the glutinous rice and tapioca flours and baking powder. Combine well.
Pour in the lemon juice and boiling water. Mix with a spatula. Then add in the coconut oil and prune puree. Knead into a dough. Cover and set aside for 30 minutes.
Break the dough – I usually measure around 50g to 75g pieces to make it easier for me to roll. Roll between two sheets of parchment paper. Roll to a thin circle.  Grab the base of a 5-inch flan dish and circle and cut round the dough with a knife. Transfer a large baking tray lined with parchment paper. Repeat until completed.
Use your hands or a teaspoon to place the filling into the centre of the cut-out dough. Have a separate bowl filled with filtered water and dip your finger within and line the water round the edge of the dough. Wrap the dough round. Repeat until completed.  Use a fork to seal the dough – but do not worry if the dough does not stick together. Place the hand pies back onto the baking tray.
With the leftover plums cook over a medium heat to form a sauce. It should take about 20 minutes. (I will normally set aside and reduce it down in a conserve).
Bake in the oven for 25 minutes.
Serve warm on its own or with the plum sauce.