Mellow earthy sweet carrots with aromatic toasted coriander with citrus undertones; Carrot and Coriander Soup.
Get some pulverised liquid down your nozzle and let your senses go into overdrive. And, savour.
This dish will shatter your belief that vegan food is difficult to make.
Make this:
When you've had a long day at work and need a scrummy meal as you sit on the sofa and watch your favourite chick flick
When you've been out on a cold day to tend to the garden and need a wholesome dish that will pecker you up
When you've been for a long walk round the block, taken your shoes off and need a refreshing dish to easy you in to the rest of your day
Carrot and Coriander Soup was inspired when trekking up Snowdonia, coming back down on a miserable day and huddling down to a quaint café where Carrot and Coriander Soup with lashings of warm toasted sourdough bread was being served.
Coriander has such versatility with differing tastes to its leaves, stems and seeds. Native to the Mediterranean and Middle East, it is extensively cultivated globally for its culinary uses.
Carrot and Coriander Soup is vegan and paleo.
What to do next
Tag me on @ethiveganquantum on Instagram to show me what you've made and let me know you're happy for me to share.
My recipes are featured in vegan speciality publications: Nourished, Vegan Life, Plant Based and Vegan, Food and Living.
Order my first self-published book, "Essence: The Beginner's Guide to Veganism" part of the three-part Circle of Food series. My second book "Presence: The Ascending Vegan" – which explores how to maintain a vegan practice is out in 2027 – I have compiled all the chapters including recipes.
Going strong since 2013.
Love.
Edward x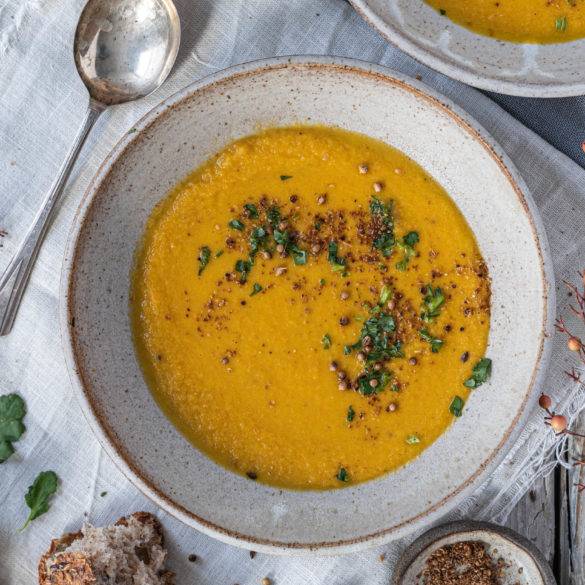 Ingredients
1 onion, medium

2tbs olive oil

500g carrots

1 medium tomato

750ml filtered water

1tbs coriander seeds

Few sprigs of coriander sprigs

Salt and pepper to season
Instructions
In a large saucepan, and under a medium heat, sauté the onion in olive oil until translucent.
Add in the carrots and coat with the oil and gently cook for a few minutes. Add in the water and tomato. Cook until the carrots start to soften – should be about 15 minutes. Remove from heat.
Ladle the soup into a high-speed blender and whizz until fine. Transfer back to the saucepan. Season to taste.
When ready to serve – lightly toast the coriander seeds In a frying pan until they brown. Swirl into the soup. Add some chopped fresh coriander leaves and stem. And, serve.