Indulge in a bit of crunch. And, munch.
Imbued with lashings of toasted crunchy oats wrapped in soft layers of yoghurt coconut cream; Blackberry Cranachan.
This dish will topple any belief that vegan food can't be made with a few household ingredients.
Make this:
When the light in the morning is getting earlier and you're watching the sunrise, a brekkie that'll kick start your day is on the horizon
When you've had a morning workout and a little light pick me up is much needed to re-top your energy levels
When you're rushing out the door for work and a soothing brekkie dish that's quick to rustle up will have flying out of the door
Blackberry Cranachan was inspired when visiting Edinburgh with Uni friends, and getting into the vibe of Scottish highlife and culture.
Blackberry Cranachan originally has its roots as a decadent Scottish breakfast treat. While the original has whiskey, this non-alcoholic version still delights. Biting into each layer creates a taste explosion of flavours.
Cranachan now doubles up as a dessert too.  Its opportune for harvest time but also the rest of the year.
Blackberry Cranachan is vegan and gluten-free.
Love.
Edward x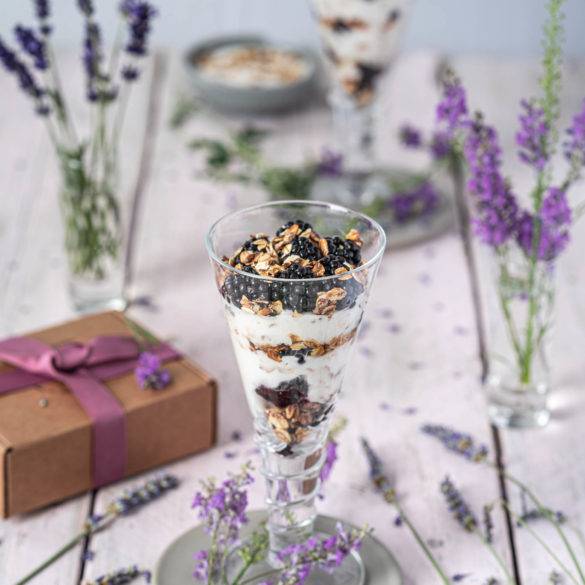 Ingredients
For Cream

15g unrefined raw cane sugar

1 coconut milk can

150g yogurt, vegan

For the Crunchy filling

50g oats, jumbo

15g unrefined raw cane sugar, ground

200g blackberries
Instructions
Place the coconut milk can in the fridge for at least 8 hours. Open and skim off the cream on top and place in bowl.
Make the cream by first caramelising the sugar in a non-stick saucepan – basically, soften the sugar and as it caramalises, add the coconut milk. Mix well. Transfer to a bowl and add the yoghurt.  Fridgerate for at least a couple of hours.
Make the crunchy oat filling by combining the oats with ground sugar. Toast the oats by placing under a medium-hot grill.  Regularly stir from time to time.  Watch over carefully to ensure that the oats do not burn.  Set to one side.
Layer the blackberries with the oats and then the cream, ensuring the blackberries are on top with the oat mixture.
Serve immediately.