Cauliflower Bourguignon is one of those vibrant colourful dishes. The Pearl onions and mushrooms. complement the cauliflower. I serve this dish with mash; this soaks up the liquid. I find the burgundy wine with the herbs is welcomed intoxication.  Here I wrap the bouquet in leek leaves which give an authentic feel to this dish.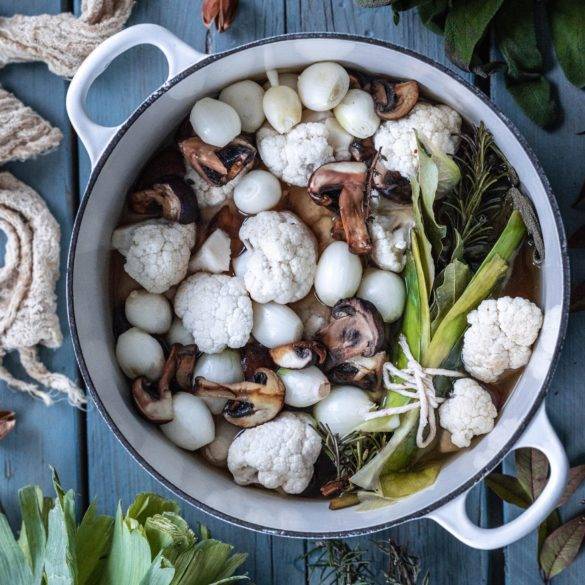 Ingredients
1 cauliflower
750ml white burgundy wine
Leek leaves
4 to 5 bay leaves
few sprigs of thyme
few sprigs of rosemary
few sprigs of sage
2 tbs extra virgin olive oil
200g chestnut mushrooms
1tsp tomato puree
300g pearl onions
Instructions
Take the top end of leaves from a leek – the older part and wrap around the herbs and bundle with a piece of string to form the bouquet garni.
Marinade the cauliflower in a sealed proof container with the bouquet garni, burgundy wine. Leave to marinade overnight.
Sauté the mushrooms in oil for three to four minutes and set to one side.
When ready to almost serve, transfer the cauliflower bourguignon to a large saucepan. Add the tomato puree. Bring to the boil and reduce heat. Cook for about 10 minutes.
Add the pearl onions and chestnut mushrooms and cook for a further 5 minutes until the onions and mushrooms start to soften.
Serve immediately.