Moist spongy Chocolate Espresso Cake with brewed coffee, blackstrap molasses, citrus lemon in a polenta almond pastry.
Elevate your erotic fantasies. And, kiss your bliss.
This dish will obliterate your belief that vegan food can't be super scrummy
Make this:
When you've got nothing booked for the weekend save for pure and utter heavenly indulgence putting you first
When you've got a rocking chillout music session in the kitchen as you swing your hips in the groove
When you've just hit second base with a new beau/belle and want to take them on a merry go round the bedroom
Chocolate Espresso Cake was inspired when attending a local bakery and falling in love with its own version of this cake and feeling drawn to experiment in untainted cherubic divinity (or something less poncy…).
This cake is vegan and gluten-free.
What equipment to use
For this recipe, I suggest:
High speed blender
Oven
What to do next
Tag me on @ethiveganquantum on Instagram to show me what you've made and let me know you're happy for me to share.
My recipes are featured in vegan speciality publications: Nourished, Vegan Life, Plant Based and Vegan, Food and Living.
Order my first self-published book, "Essence: The Beginner's Guide to Veganism" part of the three-part Circle of Food series. My second book "Presence: The Ascending Vegan" – which explores how to maintain a vegan practice is out in 2027 – I have compiled all the chapters including recipes.
Going strong since 2013.
Love.
Edward x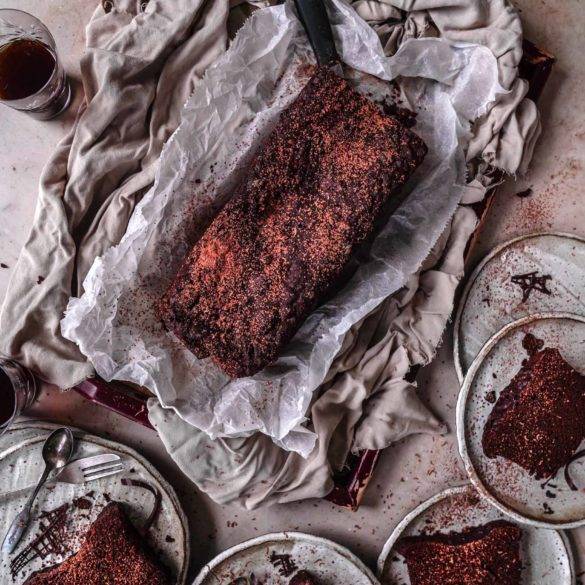 Ingredients
100g polenta

100g ground almonds

100g quinoa

50g cacao powder

75g tapioca flour

25g oats

50g flaxseeds

150g unrefined molasses

150g unrefined cane sugar

1tsp baking soda

Pinch of salt

250g olive oil

50g blackstrap molasses

100ml freshly brewed espresso coffee

50ml filtered water

½ lemon, juice

125g dark chocolate
Instructions
Preheat the oven to gas mark 180 degrees Celsius or if a convection oven to 160 degrees Celsius.
Brew coffee and set to cool to one side.
Line a 9-inch cake round tin with olive oil and parchment paper.
In a high-speed processor grind the quinoa, almonds, oats, and sugar.
Transfer to a large mixing bowl. Toss in the polenta cocoa, baking soda and salt. Use a spatula to combine.
Pour in the blackstrap molasses, olive oil, coffee and water. Combine well.
Pour in the lemon juice and fold the mixture into the cake tin. Cover with aluminium foil and bake in the oven for 50 minutes. Remove from the oven and the aluminium foil.
Using a bain marie melt the chocolate in a glass bowl over boiling water. Pour the melted chocolate over the cake. Use a spatula knife to smooth onto the cake.
Bake uncovered for further 20 minutes or until a skewer inserted into the centre of the cake comes out clean.
Allow the cake to cool. Gently remove from the tin to a wire rack to cool entirely.
Serve at room temperature.