Celeriac Wild Mushroom Pithivier; wild mushroom parsley on a celeriac thyme marjoram porcini almond cream bed encased in crisp puff pastry.
Enrapture your tastebuds with pure ecstasy.  And, quiver with delight.
This dish will obliterate your senses that vegan food CAN'T taste this f**king awesome.
Make this:
When you've rattled your beau/belle's cage and need to creep back into their good books
When you've got the bondage gear out and need a little of bit of frisky savoury morsel to elevate you to the next level of pure oblivion
When you fancy a lavish dinner party and just as an aside, wish to make a splash in demonstrating how versatile your cooking skills are
Celeriac Wild Mushroom Pithivier was inspired when I attending Borough Market. As I leeringly gazed at the fresh wild mushrooms' erotic thoughts of pithivier exploded. My synapsis were abliss as they kissed. Picking up a few morsels I returned home. Though, I detoured to a local Greek Cypriot deli to pick up the puff pastry. I was drooling in anticipation. This was going to be a taste sensation.
Celeriac Mushroom Pithivier is vegan.
What equipment to use
 For this recipe, I suggest:
Oven
What to do next
Tag me on @ethiveganquantum on Instagram to show me what you've made and let me know you're happy for me to share.
My recipes are featured in vegan speciality publications: Nourished, Vegan Life, Plant Based and Vegan, Food and Living.
Order my first self-published book, "Essence: The Beginner's Guide to Veganism" part of the three-part Circle of Food series. My second book "Presence: The Ascending Vegan" – which explores how to maintain a vegan practice is out in 2027 – I have compiled all the chapters including recipes.
Going strong since 2013.
Love.
Edward x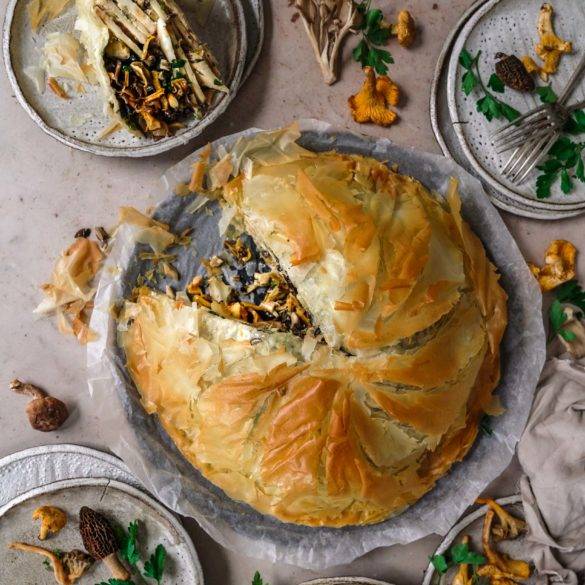 Ingredients
For celeriac layer

1kg celeriac

3tbs olive oil

10g porcini, dried

100g almonds, blanched

200ml filtered water

Few sprigs of thyme

1tbs marjoram

2 cloves of garlic, minced

Season to taste

For mushroom layer

300g mushrooms (chestnuts, girolle, chanterelles, shiitake)

3tbs olive oil

Bunch of parsley, chopped

Season to taste

600g puff pastry sheets
Instructions
Soak the porcini mushrooms in water and set to one side.
Preheat oven to 180 degrees Celsius or if a convection oven to 160 degrees Celsius.
Shave off the skin of the celeriac. Using a mandolin or knife cut the celeriac into thin strips (no more than a quarter circle).
Baste the celeriac in olive oil and bake in the oven for 15 minutes. Remove and set to one side to cool.
In a high-speed blender whizz together the almonds, and mushrooms in water. Set to one side. Transfer a large mixing bowl.
Into the almond cream add the thyme leaves, marjoram, garlic. Season to taste. Once mixed, add in the celeriac and set to one side.
Sweat the wild mushrooms in olive oil. Switch off heat and toss in the parsley. Season to taste.
Line a large baking tray with parchment paper.
Over a large clean surface place half the pastry (300g). Place over a large dinner plate (26cm diameter) and cut out the pastry into a circle. Gently transfer to the parchment paper.
Layer the celeriac over the pastry bed, leaving around 2 cm lining around the pastry. Once you have placed all the celeriac, then layer on the wild mushroom and parsley mixture.
Baste the pastry edges with olive oil.
Complete the pithivier by placing the second half of the pastry (300g) by cutting a circle that is 32cm in diameter. (I use a large pizza board to help me with this part). Cut a hole in the centre of the pastry and use a knife to make swirls round the pastry.
Layer the second pastry atop of the vegetables.
Baste all the pastry with pastry in olive oil.
Cover the pithivier in aluminium foil and bake in the oven for 25 minutes. Remove the aluminium foil and cook for a further 15 minutes uncovered. Baste with more olive oil.
Serve warm.