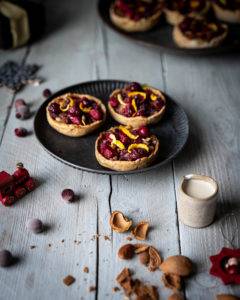 Citrus Cranberry and Almond Mince Pies
Citrus Cranberry and Almond Mince Pies came about because I wanted to combine the taste of citrus with tart flavour of the cranberry. The crust is gluten free and contrasts with the richer flavours of the filling.
Recipe type:
Dessert, Pies
Cuisine:
Vegan, Gluten-free
Ingredients
For mincemeat
150g cooking apples
100ml port
200g cranberries
100g citrus peel (orange and lemon)
25g almonds, blanched and chopped
80g unrefined cane sugar
½ tsp cinnamon, ground
½ tsp mixed spice, ground
½ tsp mace, ground
½ tsp nutmeg, ground
For the crust
210g "00" chickpea flour
105g tapioca flour
2tbs ground flaxseeds
Pinch of salt
150ml filtered water
3tbs olive oil
Garnishing
Lemon and orange peel
Instructions
In a large ceramic or wooden bowl place all the mince pie ingredients together. Combine well and cover with a cloth. Leave overnight or a couple of days. Typically, you would place in sterilised jars with the cap on top to let the fruit ferment for about a month.
When ready to make the crust, mix all the dry ingredients together in a large bowl. Add the water and oil. Knead into a dough. Place the dough covered and leave in the fridge for about 30 minutes.
Pre-heat the oven to gas mark 180 degrees Celsius.
Flour your surface before rolling the dough and shaping it for your tart tins. Fold the dough into the space.
Spoon the mince pie mixture into the tins.
Bake in the oven for about 10 minutes until the crust turns into a light golden colour.
Remove from heat and set to one side.
Garnish with lemon and orange peel.
Serve warm with some ice cream or vegan cream.