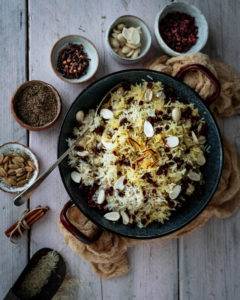 Persian Saffron Barberry Pilaf Rice
Barberry Pilaf Rice came about because I was experimenting with Indian and Persian foods. I was on an expedition as I ventured round Iranian and Middle Eastern grocers in London. I am inclined to soak the barberries in Marsala wine because I prefer not to have sugar mask the flavour of them – though, traditionally sugar is used to give that sweet and sour contrast. Also, traditionally, this dish uses onion, but I feel that detracts from the flavours and aromas of this dish. If you are unable to find barberries, try soaking raisins in Marsala wine with a little lemon juice. Repeat as below. I recently served this dish for a friend, who commented on the rice aromas of the dish; the incense of the cardamoms and cloves of India seeping through. The barberries have a very light (once soaked and steamed) and sour taste to them which contrasts with the fluffiness of the rice.
Ingredients
Few strands of saffron
50ml filtered water
30g barberries
100ml Marsala wine
30g almonds
300g rice (precooked)
450ml filtered water
1 cinnamon stick
4 cloves of India
3 cardamoms
1tbs cumin seeds
Season to taste
Instructions
Soak the saffron in water and set aside.
Soak the barberries in Marsala wine and set aside.
Soak the almonds in boiling water. When cool, remove skins and flake into halves.
Soak the rice in water for about 10 minutes. Set aside.
Drain the rice and place into a saucepan or pressure cooker. Add 450ml filtered water and the cinnamon stick, cloves and cumin seeds. Break the cardamoms so that that the skin is slightly ajar; this permits the aroma to filter through. Cook on a low heat for about 15 minutes until the rice has absorbed the water. Permit the rice to steam if using a pressure cooker.
Remove from heat. Work quickly to remove the cinnamon, cloves and cardamoms, and fluff in the drained barberries. Pour the saffron water over the top. Cover with a tea towel and reseal. Set aside for about 5 minutes.
Transfer the rice to a large serving bowl. Add the almonds. Fluff up the rice with a fork.
Season to taste.
Serve warm.