Marsala-soaked barberries, toasted almonds, cardamon cinnamon clove fleecy pilaf rice; Persian Saffron Barberry Pilaf Rice.
Swivel something smooth and fluffy round you mouth. And, breathe…
This dish will tumble any thoughts that vegan food can't be super yummy.Make this:
When you've a pagan festival celebrating the solstices or equinoxes and need a dish to rise from the ashes and enthral your guests
When you're ready for a little Middle-Eastern comfort and need a side dish complement your stews and mezes
When its breezy sunny day outside and need a sensational light dish that'll leave you suitably satisfied but not too heavy
Persian Saffron Barberry Pilaf Rice was inspired when experimenting with Indian and Persian foods; meandering Iranian and Middle Eastern grocers in London's Edgeware District, inhaling smells billowing
I soak barberries in Marsala wine. The barberries have a very light (once soaked and cooked) and sour taste to them which contrasts with the fluffiness of the rice. Traditionally, sugar is used to give that sweet and sour contrast. If you're unable to find barberries, soak raisins in Marsala wine with a little lemon juice. Repeat as below.
The incense of the cardamoms and cloves of India seeping through this dish.
Blanched almonds, I purchase from a nifty Asian outlet in Hayes.  It has an online presence too which can be found here – I love it because it is reasonably priced and tends to be good quality stuff which I use.
Persian Saffron Barberry Pilaf Rice is vegan.
What to do next
Tag me on @ethiveganquantum on Instagram to show me what you've made and let me know you're happy for me to share.
My recipes are featured in vegan speciality publications: Nourished, Vegan Life, Plant Based and Vegan, Food and Living.
Order my first self-published book, "Essence: The Beginner's Guide to Veganism" part of the three-part Circle of Food series. My second book "Presence: The Ascending Vegan" – which explores how to maintain a vegan practice is out in 2027 – I have compiled all the chapters including recipes.
Going strong since 2013.
Love.
Edward x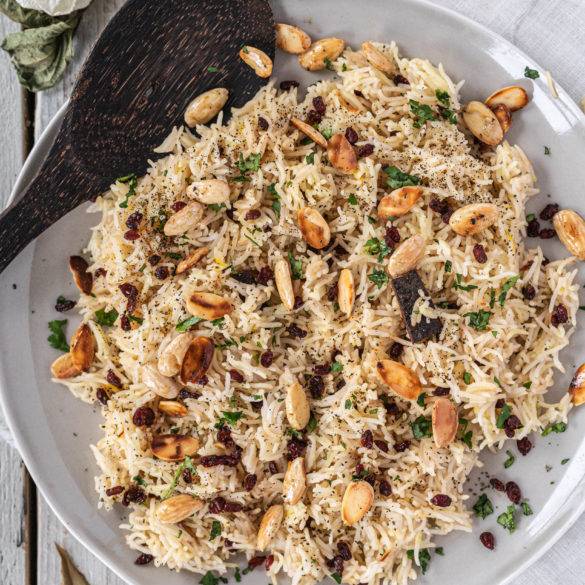 Ingredients
Few strands of saffron

50ml filtered water

30g barberries

30ml Marsala wine

30g almonds, blanched

1 onion

1tbs olive oil

300g rice, grains

450ml filtered water

1 cinnamon stick

4 cloves of India

3 cardamoms

Few sprigs of parsley

Season to taste
Instructions
Soak the saffron in water and set aside.
Soak the barberries in Marsala wine and set aside.
Soak the almonds in boiling water. When cool, remove skins and flake into halves.
Soak the rice in water for about 10 minutes. Set aside.
Sauté the onion in oil until translucent. Transfer to a saucepan or pressure cook. Drain the rice and add 450ml filtered water and the cinnamon stick, and cloves.  Break the cardamoms so that that the skin is slightly ajar; this permits the aroma to filter through.
Cook on a low heat for about 15 minutes until the rice has absorbed the water. Permit the rice to steam if using a pressure cooker.
Remove from heat. Fluff in the barberries with the wine. Pour the saffron water over the top.  Cover with a tea towel and reseal.  Set aside for about 5 minutes.
In the meantime, slice the almonds in half and toast in a frying pan until the almonds turn a golden colour.  Set to one side
Transfer the rice to a large serving bowl.  Sprinkle on the almonds.  Fluff up the rice with a fork.
Season to taste.
Garnish with chopped parsley.
Serve warm.