Fluffy smashed potatoes infused with lashings of shredded sautéed cabbage, steamed kale and scallions; Colcannon.
Languish in pure ecstasy as your tastebuds ravish the recesses of your soul.
This dish will obliterate any belief that vegan food can't be super nourishing.
Make this:
When the rain is pelting it down your windows, as you sit huddled on the sofa; nothing but comfort food is on your menu
When you're fed up with bog standard mashed potatoes and want to infuse it with of umph!
When you've got Aunt Mavis popping round for a spot of Sunday lunch and she'll need pampering up
Colcannon was inspired cooking lavish meals with an ex-beau whose staple was potatoes when it came to meals. This Irish staple has just a hint of pure excitement to make your adoration of potatoes extend to the next level. Colcannon is a traditional Irish recipe.
This savoury dish is vegan and gluten-free.
What equipment to use
For this recipe, I suggest:
Stove
Steamer
What to do next
Tag me on @ethiveganquantum on Instagram to show me what you've made and let me know you're happy for me to share.
My recipes are featured in vegan speciality publications: Nourished, Vegan Life, Plant Based and Vegan, Food and Living.
Order my first self-published book, "Essence: The Beginner's Guide to Veganism" part of the three-part Circle of Food series. My second book "Presence: The Ascending Vegan" – which explores how to maintain a vegan practice is out in 2027 – I have compiled all the chapters including recipes.
Going strong since 2013.
Love.
Edward x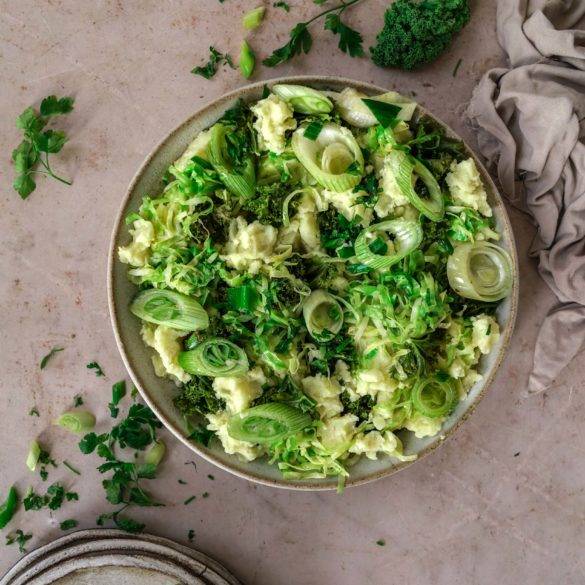 Ingredients
600g potatoes

10g almonds, blanched

50ml of potato retained water

100g cabbage

100g kale

5tsp olive oil

Bunch of scallions

Season to taste
Instructions
Peel and cook the potatoes in boiling water in a saucepan for about 20 minutes until soft and tender. Drain but retain water.
Transfer the potatoes to a large mixing bowl.
Blanch the almonds and place in 50ml of potato retained water and 2 tablespoons of olive oil. Pour into the mixing bowl.
Use a masher to mash potatoes to a fine pulp. Combine until light and fluffy. Season to taste and set to one side. Season to taste.
Steam the kale for 3 to 4 minutes and set to one side.
Finely shred the cabbage and sauté in a heated frying pan with a couple of tablespoons of oil for a couple of minutes. Transfer to the potato mixture with the kale.
Sauté the scallions in a tablespoon of oil for a couple of minutes.
Lightly stir in the kale, cabbage and scallions.
Serve immediately.