Coriander Pomegranate Quinoa Salad is one of those simple versatile colourful dishes that has flavour and easy to put together. I love serving this dish at parties, particularly when I have little time to rustle things together.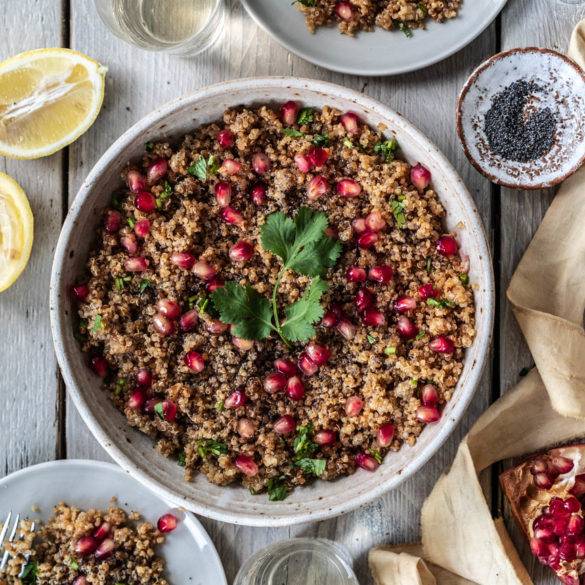 Ingredients
200g quinoa
2tbs olive oil
2tbs tamari sauce
½ lemon, juice
½ pomegranate, seeded
1tbs poppy seeds
Few springs of Coriander
Instructions
Place the quinoa in filtered water and bring to the boil. Simmer for about 15 minutes until cooked. Drain and place in a large mixing bowl.
Toss in the oil, tamari and juice. Combine well.
Add in the pomegranate seeds.
Garnish with coriander and poppy seeds.
Serve.
Notes
By Edward Daniel, Vegan Chef and Former Chair of The Vegan Society. Contributor to Vegan Life Magazine, Plant Based Magazine, Vegan Food and Living Magazine and OK! Magazine. Speaker and cooking demonstrator at Vegan Life Life Festival London, Mind Body and Spirit Festival London, Veganes Sommerfest Berlin, and Bali Vegan Festival. Author of "Essence: The Beginner's Guide to Veganism".