Chestnuts with Tamarind Parsnip Rice makes a great alternative to rice and gives that rustic feeling. I wanted to have enough flavour coming from the tamarind.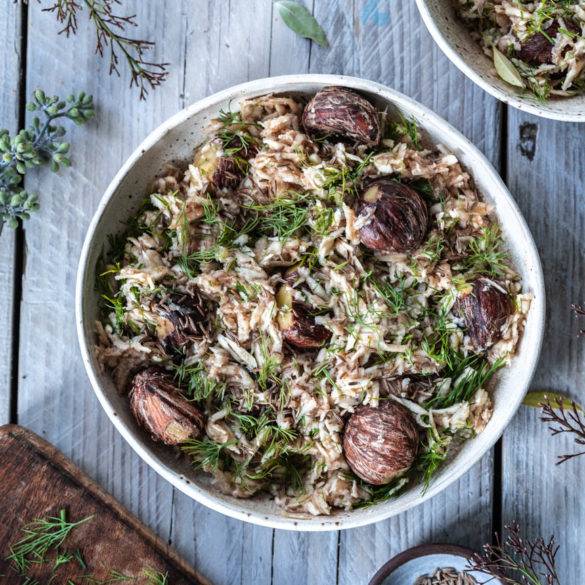 Ingredients
20g tamarind, dried
100ml filtered water
2 parsnips
½ lime, juice
1tbs caraway seeds
200g chestnuts, cooked
few sprigs of dill
Instructions
Soak the tamarind in water for about an hour. Place over a bowl and using a tea strainer remove any seeds and excess flesh. Place the reserved liquid into a large mixing bowl.
Grate the parsnips and combine well with the tamarind liquid and lime juice. Lightly toss in the chestnuts and caraway seeds.
Garnish with the dill.
Serve.
Notes
By Edward Daniel, Vegan Chef and Former Chair of The Vegan Society. Contributor to Vegan Life Magazine, Plant Based Magazine, Vegan Food and Living Magazine and OK! Magazine. Speaker and cooking demonstrator at Vegan Life Life Festival London, Mind Body and Spirit Festival London, Veganes Sommerfest Berlin, and Bali Vegan Festival. Author of "Essence: The Beginner's Guide to Veganism".