Shallow fried freshly picked corn on the cob battered in buckwheat, spring onion and chives with a hint of smoked paprika and liquid amino; Corn Fritters.
Swirl your tongue around something crunchy and wholesome with a tiny kick. And, delve.
This dish will break any belief that vegan food can't be simple to rustle up.
Make this:
When you've spent the morning playing tennis and need to nab a small bite before you go onto play footie with the lads
When you've invited Tommy and Jill from next door for a bbq and want something quick and light that will get them spilling the beans in no time
When you've had a stonker of a morning and want to chill with a cuppa on the garden decking
Corn Fritters was inspired when travelling to Canguu, Bali, by Indonesian street food cuisine where it is known perkedel jagung or bakwan jagung, popular as breakfast or late snack.
Corn Fritters is also popular in native America as crispy deep fried made in barbeques and backyard outings.
Corn Fritters is vegan and gluten-free.
What to do next
Tag me on @ethiveganquantum on Instagram to show me what you've made and let me know you're happy for me to share.
My recipes are featured in vegan speciality publications: Nourished, Vegan Life, Plant Based and Vegan, Food and Living.
Order my first self-published book, "Essence: The Beginner's Guide to Veganism" part of the three-part Circle of Food series. My second book "Presence: The Ascending Vegan" – which explores how to maintain a vegan practice is out in 2027 – I have compiled all the chapters including recipes.
Going strong since 2013.
Love.
Edward x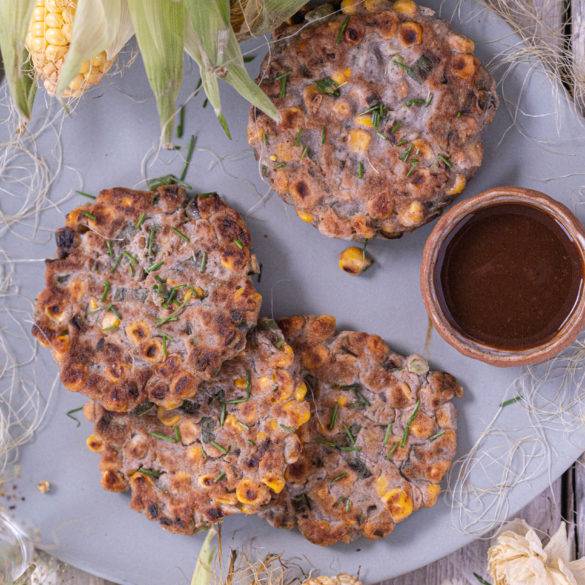 Ingredients
Corn from 2 kernals of sweet corn (measures about 300g)

2tbs Chia seeds, grinded

300ml filtered water

150g buckwheat groats

smoked paprika, pinch

1tbs liquid amino

8 spring onions, finely chopped

Small bunch of chives, chopped

salt and pepper to season

Extra virgin olive oil to cook
Instructions
Cut the corn from the kernels. Grind half of the kernals and leave the other half to the side.
In a large bowl, place the minced kernals and chia seeds. Stir in the milk. Mix well.
Sieve in the flour and baking powder. Add the paprika and combine thoroughly until the mixture forms a batter.
Lastly add the remaining corn, spring onions and chives. Add the liquid amino and season to taste. Set to one side for a couple of hours or overnight.
When ready to eat, heat the oil in a frying pan. Make sure the oil coats all the sides. Drop a spoonful of batter into the pan and using a spatula gently flatten.
Top tip – I normally heat the oil at high heat and then reduce to a medium to low heat when I add the batter.
Cook the fritters until a golden brown on either side.
Serve immediately with your favourite sauce. I serve mine with a coriander mint dip or tamarind sauce.