Cushiony aerated Buckwheat Pancakes made from sprouted buckwheat, rejuvelac, citrusy lemon and cherry-candy-like scented cinnamon.
Get something soft and spongy into your pecker… And, bite,
This dish will topple any belief that vegan food isn't simple to put together in a jiffy.
Make this:
When your new belle/beau is kipping over and you want the romance to continue well into the morning or even the afternoon, if you're that way inclined
When you're harking for a cracking brekkie that will set you up for that afternoon down at the pub with the lads
When you fancy a little indulgence and solitary style – something that you enjoy in comfort and bask in the silence
Buckwheat Pancakes was inspired when discovering veganism and gluten-free cooking. Staying at a friend's country farm in Cornwall, these Buckwheat Pancakes were rustled up for brunch as we did some filming for a show.
Buckwheat originates from the Himalyas and China and found its way to Europe where it is cultivated and found a home. It is a staple of a number of East European dishes. The groats are light brown in colour when fresh, and should be kept in sealed containers to assure their freshness.  It's not a cereal but a gluten-free seed.
The buckwheat groats I get from a non-profit small charitable store in Stoke Newington, London –  I like to support small outlets, where I can.  You can find the shop here https://foodforall.co.uk/pages/our-shop
Buckwheat Pancakes is vegan and gluten-free.
What to do next
Tag me on @ethiveganquantum on Instagram to show me what you've made and let me know you're happy for me to share.
My recipes are featured in vegan speciality publications: Nourished, Vegan Life, Plant Based and Vegan, Food and Living.
Order my first self-published book, "Essence: The Beginner's Guide to Veganism" part of the three-part Circle of Food series. My second book "Presence: The Ascending Vegan" – which explores how to maintain a vegan practice is out in 2027 – I have compiled all the chapters including recipes.
Going strong since 2013.
Love.
Edward x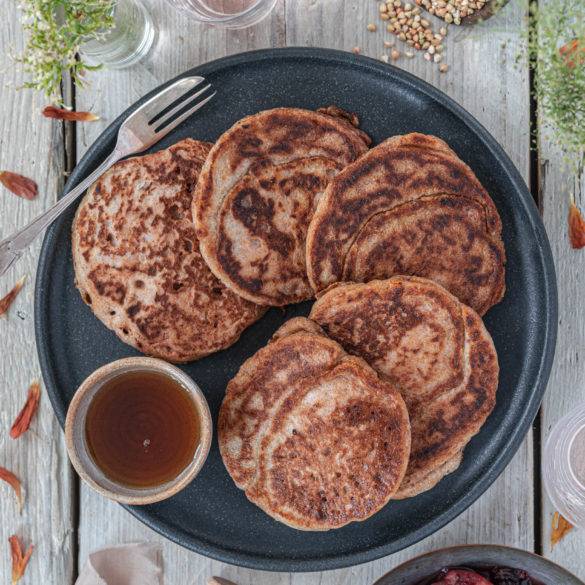 Ingredients
200g buckwheat groats

300ml filtered water

25g flaxseeds

25g raw unrefined cane sugar

1 tsp cinnamon, ground or ½ small cinnamon stick

Pinch of salt

½ lemon, juice

1 tsp baking soda

Olive oil for cooking
Instructions
Place the buckwheat groats in filtered water.  Cover with cling film and leave at room temperature for at least 24 hours. The buckwheat should start sprouting and the colour of the water should start to become frothy.
In a high-speed blender, blend the flaxseeds, cinnamon, sugar and salt until fine.  Add in the buckwheat mixture and continue combining until smooth.  Add in the lemon juice.  Transfer to a large mixing bowl.
Toss in the baking soda but do not whisk but use a spoon to bring it all together.  The batter should start becoming airy.
Line a plate with a couple of kitchen towels or paper napkins.
Gently heat a griddle pan. When the pan is hot, add the oil. Let the oil sizzle and then add a couple of spoonsful of batter. Roll the batter around, until it covers the surface.  Cook on either side for 3 or 4 minutes until it changes a dark golden-brown colour.  Transfer to the plate.
Serve with maple syrup or some nice fruit stew.