Rich moist fudgy Cranberry Chocolate Brownies with an aduki bean base topped with bittersweet tart cranberries.
Grab something moist and lush. And, lounge.
This dish will evaporate any belief vegan food can't be super yummy.
Make this:
When you've had a challenging day and need an intoxicating dessert that'll toss all your cares away
When you've got your bestie over for natter and need a dessert that'll have you both chattering into the wee hours
When it's Christmas and you need a little pick me over the Twelve Days of Christmas
Cranberry Chocolate Brownies was inspired when celebrating putting up the Christmas Tree decorations and having a wee treat combining chocolate and cranberries.
Cranberry Chocolate Brownies is vegan and gluten-free.
What to do next
Tag me on @ethiveganquantum on Instagram to show me what you've made and let me know you're happy for me to share.
My recipes are featured in vegan speciality publications: Nourished, Vegan Life, Plant Based and Vegan, Food and Living.
Order my first self-published book, "Essence: The Beginner's Guide to Veganism" part of the three-part Circle of Food series. My second book "Presence: The Ascending Vegan" – which explores how to maintain a vegan practice is out in 2027 – I have compiled all the chapters including recipes.
Going strong since 2013.
Love.
Edward x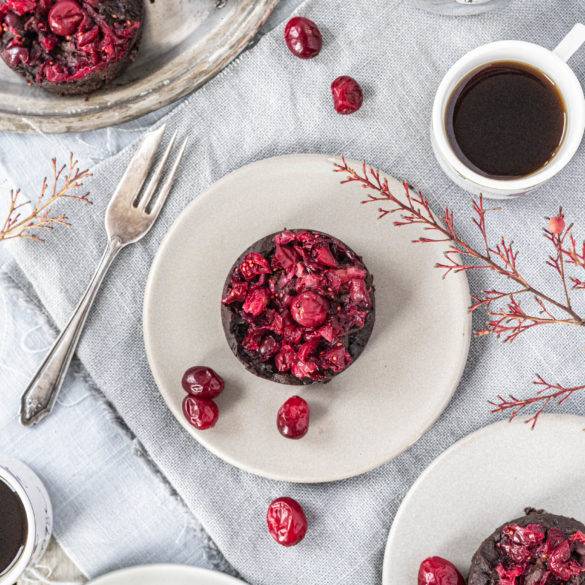 Ingredients
150g aduki beans

25g almonds, blanched ground

25g millet

50g cacao powder

100g raw unrefined cane sugar

Pinch of salt

100ml filtered water

50ml oil

150g cranberries
Instructions
Pressure cook aduki beans for 30 minutes. Drain and place on a sieve. Set to one side.
Pre-heat the oven to gas mark 180 degrees Celsius or if you have a fan oven 160 degrees Celsius.
Line a cake tin with olive oil or a 12 mini cake tray
In a high-food processor grind the almonds, millet, sugar and salt. Transfer to the mixing bowl and swirl in with a spatula.
Stir in the aduki beans into the dry mixture.
Add into the brownie mixture the water and oil.
Toss in the cacao powder.
Distribute the brownies into the tray in equal measure.
Chop the cranberries in a chop and spoon onto the brownes.
Cover the tray in aluminium foil and bake in the oven for 25 minutes
Remove from heat and set to one side until cool.