Wild purple tart damsons cooked to a pulp with cane sugar resulting in a thick fruity jam spread; Damson Jam – perfect slathered on some fresh crusty bread.
Dark as the purple midnight sky get your kicks from something gooey and inviting as you plunge into the night… And, smile.
This dish will shatter your beliefs that vegan food can't be delicious.
Make this:
When you've got your beau/belle staying overnight and need a brekkie treat that'll get them all tingly for more action
When the sunset's and need a snack to see you through as you read your fav book
When it's early morning, the kids are gearing up for school and you need to give them some scrummy jam and toast that'll get them through to morning break
Damson Jam was inspired when hand-picking ripened damsons stood on ladders with basket in tow on a friend's arable farm in blistering sunny Cornwall.
Damsons are native to Great Britain and are an astringent plum that bloom in late summer to early autumn. The foliage is free from thorns, making it easy to forage. Just nip the fruit and it'll easily fall into your lap. Even if you've picked unripened it'll ripen at home against windowsill.
Damson Jam is vegan and paleo.
What to do next
Tag me on @ethiveganquantum on Instagram to show me what you've made and let me know you're happy for me to share.
My recipes are featured in vegan speciality publications: Nourished, Vegan Life, Plant Based and Vegan, Food and Living.
Order my first self-published book, "Essence: The Beginner's Guide to Veganism" part of the three-part Circle of Food series. My second book "Presence: The Ascending Vegan" – which explores how to maintain a vegan practice is out in 2027 – I have compiled all the chapters including recipes.
Going strong since 2013.
Love.
Edward x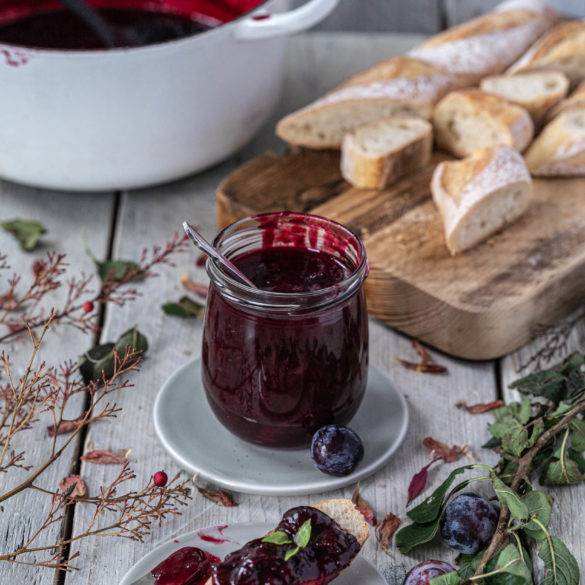 Ingredients
1kg Damsons

200ml filtered water

250g raw unrefined cane sugar
Instructions
Place the damsons in water in a saucepan. Bring to boil. Simmer for about 10 minutes.  Set to one side to cool.
Once cool, mash with a potato masher and remove the stones – you may need to use your hands to destone.
Add in the sugar. Bring to the boil. Stir continuously for about 10 minutes. and continue cooking for another hour. The jam should thicken.
Place the jam in warm sterilised jars. (To sterilise place jars in the oven for about 10 minutes at around 130 degrees Celsius, or if convection oven to 110 degrees Celsius).
Once cool, place in the fridge.