Braised sour kumquats, bittersweet apricots, sundried raisins and creamy tart Bramley apples; Stewed Kumquat, Apples and Apricots.
Devour a citrusy medley down your wodge and feel all warm and fuzzy inside. And, whoop.
This dish will bust any doubts that vegan food isn't simple to rustle up.
Make this:
When you've got Uncle Joe over for dinner and want some comfort food that will get his interests piqued
When it's freezing outside, you've got the fire going and want something opulent in your belly
When you've got your kids friends over for asleep over and need a quick and dirty dish for brekkie and get them settled
Stewed Kumquat, Apples and Apricots. was inspired from a bustling restaurant on the Jemaa el-Fna market piazza in Marrakesh's medina quarter.
Kumquats are native to China before spreading across the world to sunny climates. Orange in colour and larger than the size of an olive, it is their skin that is sweet and the pulp that is tart. What's amazing is that you can eat the entire fruit. You really don't need much of them to spruce up dishes and are thus, reasonably inexpensive too. They tend to be available during the winter months as Kumquats season from November through March.
Stewed Kumquat Apples and Apricots is vegan and paleo.
What to do next
Tag me on @ethiveganquantum on Instagram to show me what you've made and let me know you're happy for me to share.
My recipes are featured in vegan speciality publications: Nourished, Vegan Life, Plant Based and Vegan, Food and Living.
Order my first self-published book, "Essence: The Beginner's Guide to Veganism" part of the three-part Circle of Food series. My second book "Presence: The Ascending Vegan" – which explores how to maintain a vegan practice is out in 2027 – I have compiled all the chapters including recipes.
Going strong since 2013.
Love.
Edward x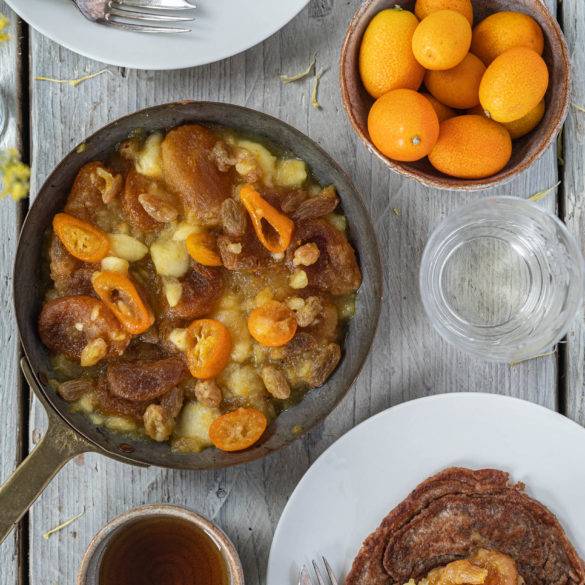 Ingredients
60g kumquats, thinly sliced

300g apples, bramleys

100g apricots, dried

20g raisins

100ml filtered water

50g raw unrefined cane sugar

Pinch of salt
Instructions
Peel and core the apples to remove the pips.  Place the apples in filtered water while you are peeling and coring.
Drain the apples and place all the ingredients (including fresh filtered water) in a large saucepan. Cover with a lid.  Stew the apples over a medium heat until they soften. This will take about 10 minutes.
Serve with pancakes, vegan cream or ice cream.