Guzzle down something soft and tender that'll get you all knocked up for more…
Crisp crunchy caramelised roasted fennel and juicy grapes in an intoxicating fiery peppercorn and bitter mustard sauce.
This dish will turn over any doubts that vegan food can't be super delicious.
Make this:
When you've got a last-minute dinner organised and need to rustle up a dish that'll get your guests quacking
When its blazing outside and a cosy alfresco dinner with loved ones is what you're really after
When Uncle Tom is coming for dinner and you know that he's a bit a fussy eater that you'll be needing him to be satiated
Fennel and Grape in Peppercorn and Mustard Sauce was inspired by lavish lunches in Marylebone – but without harming animals or using dairy.
Fennel has this anise-like taste and fragrance.  It seasons from September through to winter.  Indigenous to the Mediterranean and Asia Minor, fennel has been cultivate in temperate climates.
Fennel and Grape in Peppercorn and Mustard Sauce is an appetising throw together dish that juxtaposes flavours and a great dinner party treat.  It's also nice to just eat with dear ones too.
Love.
Edward x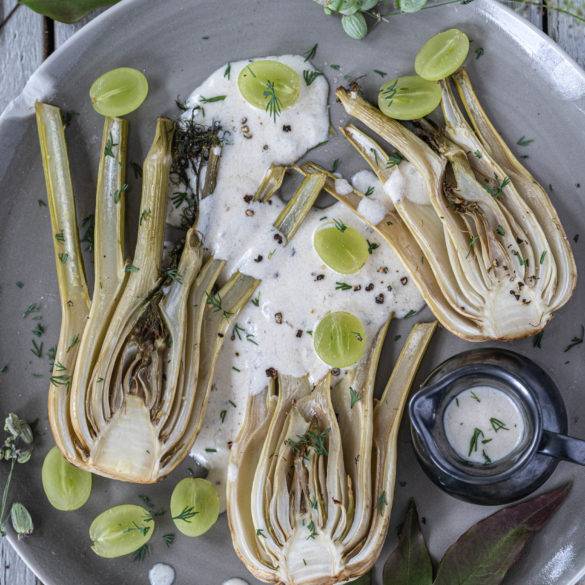 Ingredients
500ml filtered water

50g almonds, blanched

2 fennel bulbs, chopped

1 shallot, chopped

2tbs olive oil

2 tsp mustard

Pinch of salt

Few sprigs of dill

Few peppercorns

100g grapes
Instructions
Preheat oven to 180 degrees Celsius or if a convection oven to 160 degrees Celsius.
Baste the fennel with a couple of tablespoons of oil and bake in the oven for 25 minutes.
In a saucepan, sauté the shallot in a couple of tablespoons of oil until translucent.
Blend the almonds and water and transfer to a sauce pan. Bring to a medium heat. Stir consistently for a few minutes.
Stir in the mustard and season to taste. Toss in the dill.
Garnish the sauce with a few peppercorns and top with fresh grapes. Serve the over the fennel.
Serve with boiled or mashed potatoes and vegetables.