Shelled Dry Broad Bean Curry flavoured with curry leaves, mustard and cumin seeds, fresh ginger and lime juice.
Savour something seasonal and refreshing as it slides down your throat. And, gulp.
This dish with smash your beliefs that vegan food can't be fulfilling and nutritious.
Make this:
When you've attended the local farmer's market laden with ribbons of broad bean pods and ah ha moment comes to you to make a scrummy dish with them
When it's a gorgeous sunny day has you stoked for a nice summery super healthy treat and a quick dry curry
When
Dry Broad Bean Curry was inspired when visiting distant relatives in the Kashmiri Himalayan foothills. Broad beans were left as food for the souls departing for the afterlife in the tombs of Ancient Egyptian kings.
Broad beans are a good source of protein, and dietary fibre. Blanching and removing the shell reveals tender gentle flavoured broad beans. Barely cooking broad beans simply tossing into a curry leads to a delicate flavour.
What to do next
Tag me on @ethiveganquantum on Instagram to show me what you've made and let me know you're happy for me to share.
My recipes are featured in vegan speciality publications: Nourished, Vegan Life, Plant Based and Vegan, Food and Living.
Order my first self-published book, "Essence: The Beginner's Guide to Veganism" part of the three-part Circle of Food series. My second book "Presence: The Ascending Vegan" – which explores how to maintain a vegan practice is out in 2027 – I have compiled all the chapters including recipes.
Going strong since 2013.
Love.
Edward x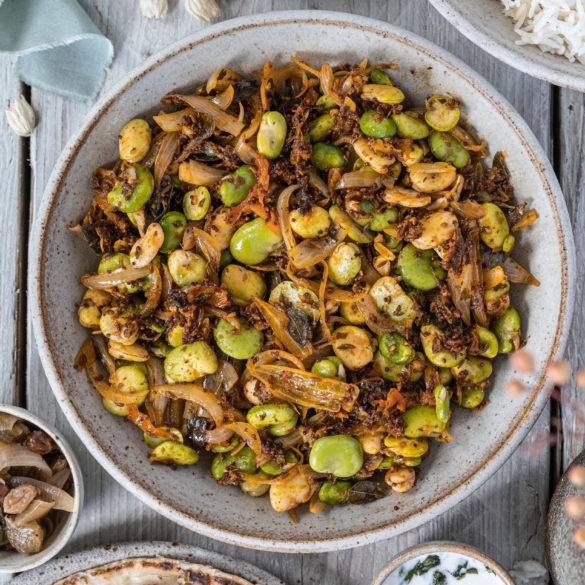 Ingredients
200g broad beans

1 medium tomato

2g curry leaves, dry

Onion

2tbs olive oil

2 cloves of garlic

1tbs mustard seeds

1tbs cumin seeds

1tsp tomato puree

½ inch fresh ginger

2tbs filtered water

1 chilli (optional)

Pinch of salt

½ lime juice
Instructions
Soak the broad beans in boiling water for a minute or two. Remove and pat dry with a dish cloth. Remove the outer skin and set to one side.
Blend the tomato with the half the curry leaves and optional chilli. Set to one side.
Sauté the onion in oil until translucent. Add the blended tomato and curry leave mixture, together with the mustard and cumin seeds, garlic, ginger, tomato puree, water and salt. Heat under a medium heat for a few minutes.
Toss in the broad beans and switch off the heat. Squeeze in the lime juice. Cover with a lid.
Serve – with some roti or rice.