Goji Berry Sultana Stewed Apples made for my delightful friends Jon and Julesy. Writing about it now brings back memories of setting the lighting and mood for the photo. What a treat to have awesome friends. What I love about this dish is the ease with which it is made. It is one of those dishes to rustle up when friends drop by. The combinations ensure a hotchpotch of textures and tastes.
What to do next
Tag me on @ethiveganquantum on Instagram to show me what you've made and let me know you're happy for me to share.
My recipes are featured in vegan speciality publications: Nourished, Vegan Life, Plant Based and Vegan, Food and Living.
Order my first self-published book, "Essence: The Beginner's Guide to Veganism" part of the three-part Circle of Food series. My second book "Presence: The Ascending Vegan" – which explores how to maintain a vegan practice is out in 2027 – I have compiled all the chapters including recipes.
Going strong since 2013.
Love.
Edward x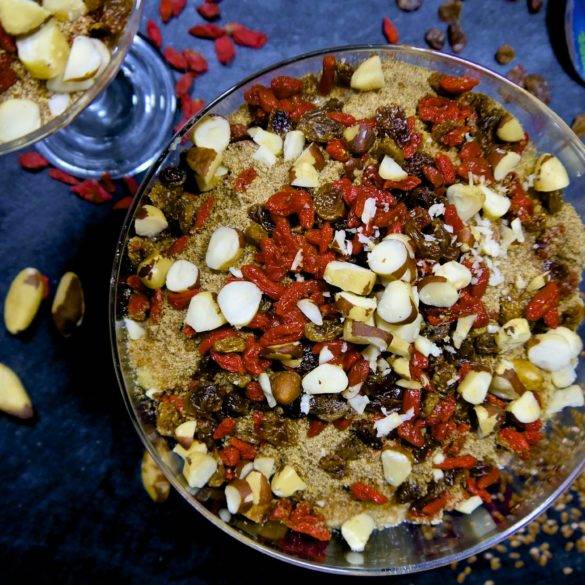 Ingredients
100g goji berries
100g sultanas
1kg apples, bramley
100ml filtered water
pinch of salt
4tsb flaxseeds, ground
½ lemon, juice and zest
1 cinnamon stick, ground
25g baobab powder
50g brazil nuts, chopped
Instructions
Soak the goji berries and sultanas in filtered water and set to one side.
Core the apples to remove the seeds. Leave the apples unskinned. Place in a large saucepan with the water and salt, and cover with a lid. Cook over a medium heat and stew the apples until they soften. This will take about 10 minutes. Place in a large serving dish or in serving bowls and set to one side.
Place in a large bowl mix the flaxseeds, lemon juice and zest, cinnamon and baobab. Smooth on top of the apple stew.
Drain the water from the goji berries and sultanas. Decorate the remaining ingredients on top of the apple stew.
Serve with vegan cream or ice cream.