Moist gooey bed of coconut flaked chocolate brownies topped with hazelnut, raisins and melted chocolate; Double Chocolate Hazelnut Brownies.
Fawn over something lush. And, salivate.
This dish will topple any belief that vegan food can't be super delicious.
Make this:
When Aunt Betty is popping over for a cuppa and quick and scrumptious brownie to go in tow is much needed
When you have that chocolate mania and your body is urging for a fix – an easy recipe that's super divine will quench your pangs
When you've a potluck going on, and meeting new people – and a dessert that'll have them eating out of your hands is the tone to be set
Double Chocolate Hazelnut Brownies was inspired when having a chocolate and hazelnut meltdown.  Both I love in abundance and together they are stratospheric.  Getting a chocolate rush was what the body and soul was craving. I was undertaking the last edits for my first book "Essence: The Beginner's Guide to Veganism". and, so the recipe came about as I hunted through my pantry. These brownies go well with a nice cuppa as the smell of chocolate comes wafting through the air as I work.
Double Chocolate Hazelnut Brownies are vegan and gluten-free.
What to do next
Tag me on @ethiveganquantum on Instagram to show me what you've made and let me know you're happy for me to share.
My recipes are featured in vegan speciality publications: Nourished, Vegan Life, Plant Based and Vegan, Food and Living.
Order my first self-published book, "Essence: The Beginner's Guide to Veganism" part of the three-part Circle of Food series. My second book "Presence: The Ascending Vegan" – which explores how to maintain a vegan practice is out in 2027 – I have compiled all the chapters including recipes.
Going strong since 2013.
Love.
Edward x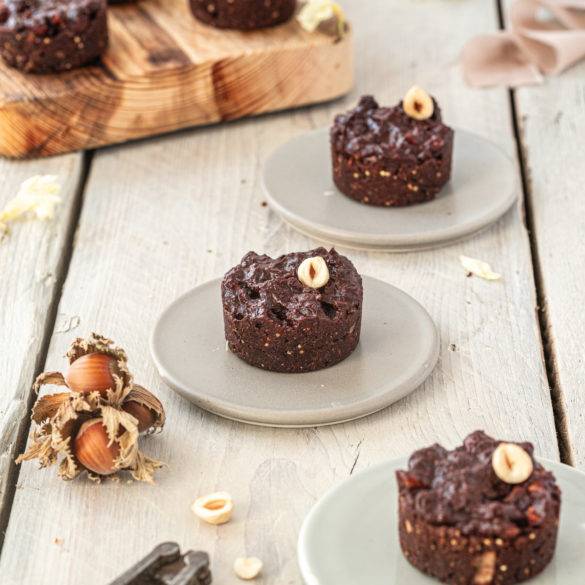 Ingredients
For base

200g millet

40g flaxseeds

40g oats

100g raw unrefined sugar

Pinch of salt

50g potato starch

50g cocoa

50g coconut flakes

125ml olive oil

60ml filtered water

For the topping

100g dark chocolate (at least 70% cocoa)

30g coconut oil

20g oat

40ml filtered water

50g hazelnuts

50g raisins
Instructions
Preheat the oven to gas mark 180 degrees Celsius or if a convection oven to 160 degrees Celsius.
Toast the hazelnuts in the oven for 10 minutes. Place in a sieve and discard the brown skin.  Place in a chopper and roughly chop. Set to one side for later.
In a high-speed blender whizz together the millet until fine and place in a large mixing bowl.
Next whizz together the flaxseeds, sugar, and salt.  Add to the mixing bowl with the potato starch, cocoa and coconut flakes. Combine well.  Add in the oil first and then the water.  Leave to one side for 10 minutes
Line a baking tray with oil. place the batter into the holes.
Bake the mixture in the oven for 15 minutes. It should still have a moist texture.
Remove from the oven and allow to cool.
Grind the oats in a high-speed blender and combine with the water to form a cream and set to one side.
Place a glass bowl over boiling water (or even over a bain marie). Add the dark chocolate and melt in the coconut oil. Add the cream, hazelnuts and raisins.
Pour the melted chocolate mixture on top of the cake. Smooth over so that the chocolate covers all the surface. Set to one side for a couple of hours.
Serve once at room temperature. Chill the rest.