Burst Gooseberries with floral peppery cardamom and liquorice-like star anise double layered with cashew cream icing; Gooseberry Cake.
Deck yourself down with something that will get you'll moist for more. And, beam.
This dish will tumble any belief that vegan food isn't super yummy to make.
Make this:
When you've got a gang of ravished kids that have just come home and they need a little pick me up treat
When you've got the ladies over after Lawn Bowls to have a natter about all and sundry
When you're wanting a snack in between the sarnies in your packed lunch as you swelter with the work you've got on
Gooseberry Cake was inspired by harvesting gooseberries at a friend's allotment and lying at ground level with a cushion underneath and being careful of picking and avoiding the prickly thorns.
Gooseberries are a good source of dietary fibre, aiding digestion.
Gooseberry Cake is vegan and gluten-free.
What to do next
Tag me on @ethiveganquantum on Instagram to show me what you've made and let me know you're happy for me to share.
My recipes are featured in vegan speciality publications: Nourished, Vegan Life, Plant Based and Vegan, Food and Living.
Order my first self-published book, "Essence: The Beginner's Guide to Veganism" part of the three-part Circle of Food series. My second book "Presence: The Ascending Vegan" – which explores how to maintain a vegan practice is out in 2027 – I have compiled all the chapters including recipes.
Going strong since 2013.
Love.
Edward x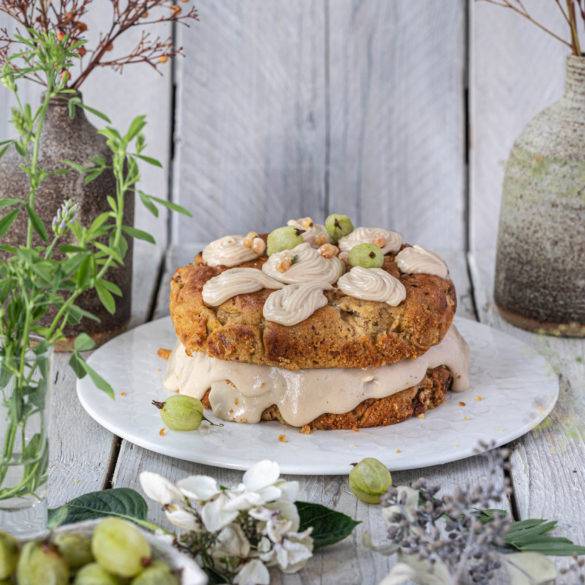 Ingredients
250g gooseberries

100g polenta

100g ground almonds

100g quinoa

25g oats

50g flaxseeds

60g tapioca flour

120g raw unrefined cane sugar

1 star anise

6 cardamom pods

125ml olive oil

½ lime, zest and juice

1tsp baking soda

Pinch of salt

175ml filtered water

Icing

125g cashews

75g filtered water

75g coconut oil

50g raw unrefined cane sugar
Instructions
Make the icing by blending the sugar and cashews in a high-speed blender. Add in the water. Continue blending.  Add in the coconut oil. Whizz until smooth. Transfer to a bowl and cover with cling film and set to one side in the fridge.
Pre-heat the oven to gas mark 180 degrees Celsius or if you have a fan oven 160 degrees Celsius.
Place the polenta, almonds, quinoa, oats, flaxseeds, sugar, star anise, cardamom pods and salt in a blender and blend finely. Place in a mixing bowl.  Add in the tapioca flour.
Stir in the water and mix. Then add in the oil. Use a spatula.
Add in the baking soda.
Cut the gooseberries in quarter and add into the mixture.
Then add in the lime juice.
Line two 7-inch baking trays with oil. Place in the baking trays. Divide the cake mixture in two.
Bake in the oven for around 25 minutes. Make sure a skewer runs cleanly through to ensure that it is done.  Allow to cool at room temperature and set aside.
Apply and serve with the icing.