Get those mouth enzymes salivating. As you picture heaven.
Sweet juicy ripe Plum Cake infused with a touch of lemon baked in a pillowy moist millet and quinoa pastry.
This dish will overthrow any belief that vegan food can't be simple to put together.
Make this:
When Aunt Bettie is popping over for a cuppa and you're wanting her to focus on her tummy and not the cat down the road
When you've freshly foraged plums at your local park and burdened with an abundance of fallen ripe plums
When you've spotted plums at your local farmer's market and fancy a nice bit of cake to go with your freshly brewed herbal tea
Plum Cake was inspired when cycling the streets of London. And, as I passed by a park, I heard a thud and literally, all these juicy plums were falling to the ground – as the wind rustled the trees. I returned later with a bag and collected enough to make this Plum Cake.
Plums are ripe in July. In China they are considered good luck and in Serbia are sacred.  They can be found in hedges and scrubs.
Plum Cake is vegan and gluten-free.
Love.
Edward x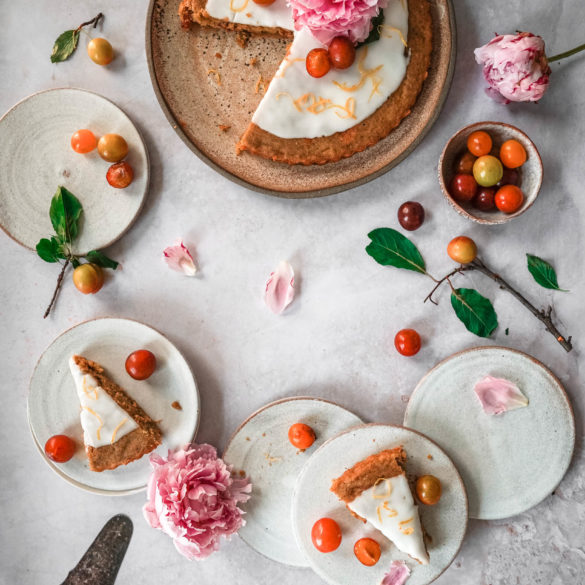 Ingredients
80g millet

70g quinoa

75g raw unrefined cane sugar

18g oats

18g flaxseeds

15g tapioca

1tsp baking soda

Pinch of salt

250g plums, destoned

85ml olive oil

80ml filtered water

1tsp vanilla extract

½ lemon juice
Instructions
Pre-heat the oven to gas mark 180 degrees Celsius or if you have a fan oven 160 degrees Celsius.
Line a cake tin (9-inch cake tin) with olive oil and baking paper and set to one side.
If the plums are unripe remove the skin. If ripe don't bother as it will add texture. Boil the kettle and soak the plums in boiling water for about three or four minutes. Once cooled work with the hands to remove the skin and the stones. Chop into small pieces and set to one side.
In a food processor, grind the millet granules, quinoa, oats, unrefined cane sugar and flaxseeds. Place in a large mixing bowl with the tapioca, baking soda and salt. Use a spatula to combine.
Add in the plums.
Combine in the filtered water.
Pour in the oil and vanilla extract. And, finally the lemon juice.
Dish into the cake tin.
Bake in the oven for about 35 minutes until the crust turns into a light golden colour; with the first 20 minutes under cover of aluminium foil. Insert a skewer to test if it comes out clear to see if it is baked.
Remove from heat and set to one side until cool.
Top with icing of your choice, if preferred – and even some strawberry jam.