Gooseberry Muffins are an excellent way to start the day.  I love this dish because it is simple to put together and there is nothing better than gooseberry muffins freshly baked and the slight hint of nutmeg wafting through the air as you take them out of the oven.  I love the tanginess of the gooseberries which feel as if your senses awaken.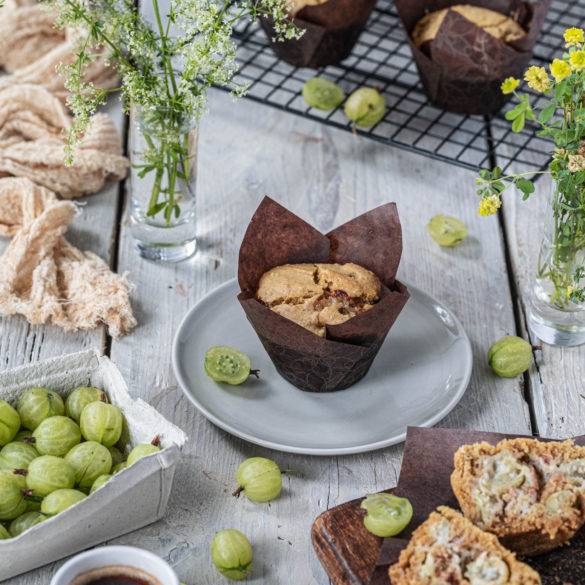 Ingredients
250g gooseberries

Dry ingredients

160g millets

50g blanched almonds

125g raw unrefined cane sugar

25g flaxseeds

25g oats

30g tapioca flour

Pinch of nutmeg

2tbs bicarbonate of soda

Pinch of salt

Wet ingredients

3tbs olive oil

100ml filtered water
Instructions
1. Pre-heat oven to 180 degrees Celsius, or if a convection oven to 160 degrees Celsius.
2. Place the blanched almonds in a high-speed blender and whizz until fine. Transfer to a large mixing bowl.
3. Separately place the millets, sugar, flaxseeds, oats and salt in the high-speed blender and again, whizz until fine. Add to the almonds with the tapioca flour, bicarbonate of soda and nutmeg. Mix well.
4. Add in the wet ingredients to the dry. Combine well. The mixture should be thick.
5. Cut half the gooseberries in two and add with the remaining gooseberries. Fold into the batter but do not overly mix.
6. Transfer the gooseberries to a muffin tray lined with some muffin cases.
7. Bake in the oven for 50 minutes. After 30 minutes, loosely cover with aluminium foil for the remaining 20 minutes.
8. Serve hot.