Plump burst popping moist tart Gooseberry Muffins with a hint of sweet fragrant nutmeg, awakening the senses.
Ditch the eggnog and get all hognoggy with some nutmegy Gooseberry Muffins. And, melt.
This dish will stifle any doubt that vegan food can't be satisfying.
Make this:
When you're looking for an excellent start to your weekend, to go with your morning drink. Freshly baked and the slight hint of nutmeg wafting through the air as you take them out of the oven
When you've got friends over and want to have a brunch that will keep the chatting going before you all go out for a leisurely work
When you've got a school fete coming up and are looking for a contribution that isn't too sweet or sugary
Gooseberry Muffin was inspired following a trek to the top of Snowdonia and deserving of a ravenous treat once down from that mountain.
Early in season, gooseberries are green, sharp and tart in taste.  The come into season in May and are best in June and July. Though, as the season progresses they become a yellowish-green and become much sweeter.
However, handpicking them can leave with little nips as you reach out to pluck them and attempt to avoid the thorns – though, it is well worth doing so. Wear gloves and comfy cushions underneath when picking them as they can be at awkward angles.
Gooseberries are a firm favourite in Britain, where they grow abundantly and found in local farmers markets and also retail shops. They frees well, though best you use your fruit fresh.  They're indigenous to the cooler climes of northern Europe, north America and the Himalayas.
Blanched almonds and pistachio nuts, I purchase from a nifty Asian outlet in Hayes.  It has an online presence too which can be found here https://www.sirasonline.co.uk – I love it because it is reasonably priced and tends to be good quality stuff which I use.
Gooseberry Muffins is vegan and gluten-free.
What to do next
Tag me on @ethiveganquantum on Instagram to show me what you've made and let me know you're happy for me to share.
My recipes are featured in vegan speciality publications: Nourished, Vegan Life, Plant Based and Vegan, Food and Living.
Order my first self-published book, "Essence: The Beginner's Guide to Veganism" part of the three-part Circle of Food series. My second book "Presence: The Ascending Vegan" – which explores how to maintain a vegan practice is out in 2027 – I have compiled all the chapters including recipes.
Going strong since 2013.
Love.
Edward x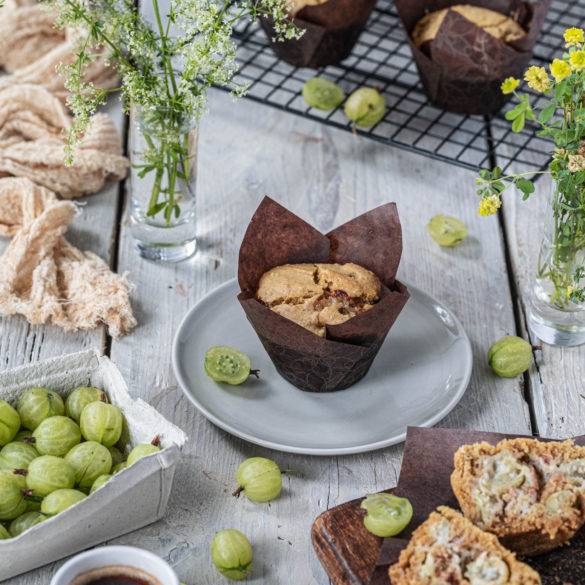 Ingredients
250g gooseberries

Dry ingredients

160g millets

50g almonds, blanched

125g raw unrefined cane sugar

25g flaxseeds

25g oats

30g tapioca flour

Pinch of nutmeg

2tsp bicarbonate of soda

Pinch of salt

Wet ingredients

3tbs olive oil

100ml filtered water
Instructions
1. Pre-heat oven to 180 degrees Celsius, or if a convection oven to 160 degrees Celsius.
2. Place the blanched almonds in a high-speed blender and whizz until fine. Transfer to a large mixing bowl.
3. Separately place the millets, sugar, flaxseeds, oats and salt in the high-speed blender and again, whizz until fine. Add to the almonds with the tapioca flour, bicarbonate of soda and nutmeg. Mix well.
4. Add in the wet ingredients to the dry. Combine well. The mixture should be thick.
5. Cut half the gooseberries in two and add with the remaining gooseberries. Fold into the batter but do not overly mix.
6. Transfer the gooseberries to a muffin tray lined with some muffin cases.
7. Bake in the oven for 50 minutes. After 30 minutes, loosely cover with aluminium foil for the remaining 20 minutes.
8. Serve hot.