Indulge in something smooth and raunchy and let the games begin.. And, smoulder.
Sweet earthy fava beans with a hint of cumin and paprika and a dash of lemon juice to make Bissara.
This dish will smash your belief that vegan food can't be easy to rustle up.
Make this:
When you've wanting a Middle-Eastern vibe to your cuisine and fancy have an evening of pure indulgence
When you've a big party and want something simple to put together and yet looks wonderful to serve.
When you fancy something a little different for brekkie. Traditionally, Bissara is served as a breakfast in winter
Bissara was inspired when indulging on Moroccan cuisine whilst on one of the seafront restaurants on Casablanca's picturesque coastline with family.
Bissara is a fava bean soup/dip that derives from Ancient Egypt. Dried fava beans are hydrated and then made into a creamy dish dipped with bread and served as a breakfast snack. Packed with proteins and warming too, it's a great way to start the day. It's also relatively cheap on the budget to make too.
Fava beans, I get from Urban Native Organics and Wholefoods in Stroud Green, London.  It's a small store, which I support.  You can find them here 
Bissara is a vegan condiment.
Love.
Edward x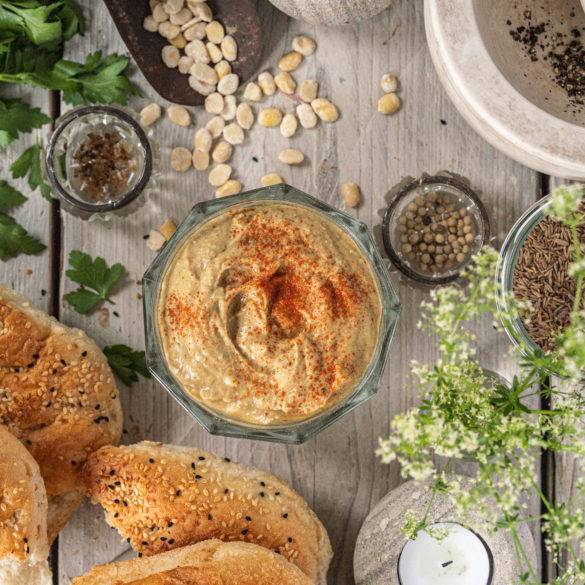 Ingredients
100g fava beans

2 garlic cloves

2tbs olive oil

1/2tsp cumin seeds

1/2tsp sweet paprika

Pinch of salt and pepper

¼ lemon, juice

Few sprigs of parsley
Instructions
Soak the fava beans in filtered water overnight.
The following day, drain and adding fresh water, pressure cook for 30 mins. Set to one side.
Drain the fava beans and place in high-speed blender.
Sauté the garlic cloves until softened. Add to the blender with the remaining ingredients.
Serve with bread.4