Baked greengages laced with Star anise overlayed with pillowy cinnamon millet and oatmeal scones; Greengage Cobbler at the ready.
Satiate your hunger with tangy fruit and gooey melt in the mouth pastry. And, pamper.
This dish will burst your belief that vegan food can't be nourishing and fulfilling.
Make this:
When you've just been to a Pick Your Own Farm laden with greengage and scratching your head over what to make now…
When you fancy a little British cuisine that'll get you all loaded up with yumminess
When it's a nippy summer's day and want a warming dish that'll have you moving around
Greengage Cobbler was inspired by a climb to the Tor in Glastonbury and staying at a guest house overlooking the valley below and sunset yonder, with greengage growing in the garden.
So, what are Greengages? Greengages are a firm British favourite. plum, originally imported from Iran.  Greengages have a lustrously green skin and though a bit tart make the perfect accompaniment to pastry.
Scones are a cross between a cake and a muffin – they're like a thick oven-leavened pastry with baking powder as the leavening agent. A cobbler is typically a fruit filling overlayed with batter – over here in the U.K., it tends to be scones – but it could be biscuit.
Greengage Cobbler is vegan and gluten-free.
What to do next.
Tag me on @ethiveganquantum on Instagram to show me what you've made and let me know you're happy for me to share.
My recipes are featured in vegan speciality publications: Nourished, Vegan Life, Plant Based and Vegan, Food and Living.
Order my first self-published book, "Essence: The Beginner's Guide to Veganism" part of the three-part Circle of Food series. My second book "Presence: The Ascending Vegan" – which explores how to maintain a vegan practice is out in 2027 – I have compiled all the chapters including recipes.
Going strong since 2013.
Love.
Edward x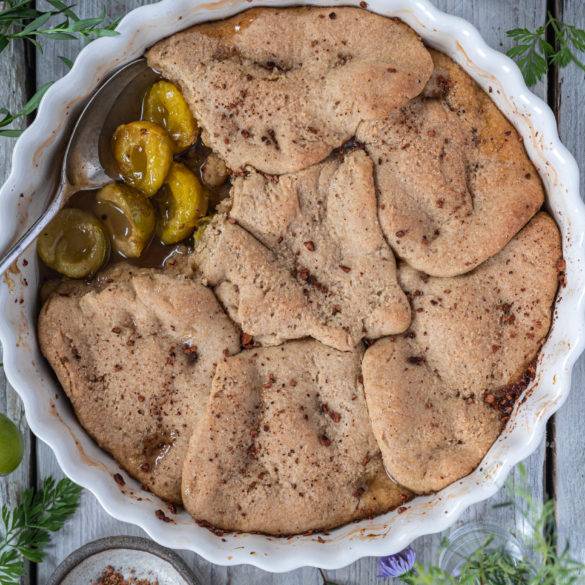 Ingredients
Filling

1kg greengage

125g unrefined cane sugar

½ lemon, juice

1 Star anise, ground

Pastry

100g oats

100g millets

30g flaxseeds

75g raw unrefined cane sugar

30g white rice flour

30g tapioca flour

2tsp baking powder

Pinch of salt

100ml filtered water

25ml olive oil

1/2 tsp cinnamon

Oil for basting.
Instructions
Make the pastry by placing the dry ingredients (not tapioca flour) into a high-speed blender and blending till fine. Transfer to a large mixing bowl add in the tapioca flour.
Pour in the water and mix with hands. Next add in the oil and knead into a ball. Cover and leave the dough to rest in the fridge for about 10 minutes.
Pre-heat the oven to gas mark 180 degrees Celsius or if you have a fan oven 160 degrees Celsius.
In a bowl place the Star anise, sugar and lemon juice. De-stone the greengage and add to the bowl. Coat the greengage in the lemon juice.
Pour the greengage into an oven proof dish.
Take balls of pastry and either mould into rough shapes to go round and cover the fruit – have fun with it. Use pastry cutters if easier. But the point is to give that rustic look to the dish.
Baste with olive oil.
Bake in the oven for 25 minutes. The scones should have a nice golden colour to them.
Serve with cream or ice-cream.